DirectBuy of Fort Lauderdale Helps Habitat for Humanity Through Rain, Sleet, Snow or Hurricane
DirectBuy of Fort Lauderdale helps turn two Habitat Houses into homes.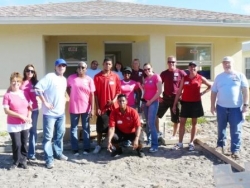 Fort Lauderdale, FL, October 28, 2008 --(
PR.com
)-- It didn't matter that they were in the midst of hurricane season nor did it matter that days earlier hurricane Ike threatened to make a destructive path through South Florida. The DirectBuy team of Fort Lauderdale didn't back down from fulfilling the dreams of two families in Oakland Park, Florida.
On Monday, September 15, 2008,
DirectBuy of Fort Lauderdale
, in conjunction with Habitat for Humanity, worked to complete two kitchens and 4 bathrooms for the homes of TaMeisha Roberts and Aly and Kim Auguste.
Owners Max Eaton and Gail Sanchez-Eaton, donated the cabinetry while their expert kitchen designers Dave Nigro and Ron Bierley designed the layout and functionality of both kitchens and 4 bathrooms. With some extra help from the DirectBuy service team, the project was completed within 7 hours.
"I was proud to be a part of what Habitat for Humanity does for communities in need, says owner Max Eaton. Our contribution was a good fit with what we do at DirectBuy and we look forward to the opportunity to do it again."
That type of generosity is fairly standard for DirectBuy. Showroom owners across North America donate to any number of organizations, and have shown a particular affinity for making contributions towards building homes for families across North America.
"I was honored to see my design used for such a worthy cause, said Nigro. "The sense of accomplishment was overwhelming once we saw the end result."
Members of DirectBuy have access to thousands of items, including kitchen cabinets, flat-screen televisions and major appliances from hundreds of top manufacturers and their authorized suppliers. Since DirectBuy offers brand-name merchandise with no traditional retail markup, members are able to save hundreds, even thousands, of dollars on purchases for their homes. To assist with home renovation, DirectBuy members also have access to licensed interior designers and product specialists who are specifically trained in one of five areas of merchandise: Home Furnishings, Home Improvement, Flooring, Accessories, and Entertainment/Outdoor.
About DirectBuy
For more than 37 years, DirectBuy has been showing thousands of consumers unparalleled ways to save as they shop for virtually everything for in and around their homes – from
furniture
, carpet and flooring, and custom window treatments, to
kitchen cabinets
, bath cabinets and fixtures, appliances and much, much more.
DirectBuy enables members to purchase most every product offering from several hundred manufacturers at more than 160 showrooms across North America. To request a "Free Insider's Guide to Buying Direct" and a Visitor's Pass to learn more about the superior value and benefits of a DirectBuy membership, visit
www.directbuy.com
or
www.directbuycares.com
###
Contact
DirectBuy
Sara Shragal
219-736-1100 ext. 365
http://www.directbuy.com

Contact