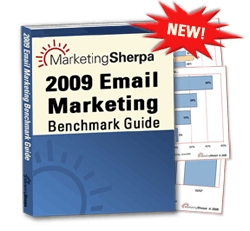 Warren, RI, November 03, 2008 --(
PR.com
)-- A MarketingSherpa benchmark guide viewed each year as a must-read by email marketers is living up to its reputation.
The 2009 Email Marketing Benchmark Guide has been breaking sales records since it was released on Oct. 8, said Todd Lebo, Reports Manager for MarketingSherpa. Sales are 52% ahead of last year -- with the pace supporting research that shows email is again a 'hot' tactic in a 'cold' economy for B-to-B and consumer marketers.
"Year after year, MarketingSherpa's Email Benchmark Guide proves to be an amazing source of insight, inspiration and ideas for email marketing professionals," said Jeffrey K. Rohrs, Vice President of Marketing for ExactTarget. "The 2009 edition is no exception as it documents, yet again, that there's still plenty of ROI gold in email marketing's hills for those who eschew burn-and-churn tactics in favor of efforts that facilitate long-term, mutually beneficial relationships with customers and prospects."
Completely re-researched and rewritten each year, the sixth edition of the Guide is filled with the latest practical information from 1,763 marketers on:
- Open, clickthrough, and conversion rates
- Spam regulations nationally and internationally
- Tests and tactics that get the best and worst ROI
Among the Special Reports in the 328-page Guide:
- Exclusive look at international email in 30 countries
- Future of list growth
- Text email design
- 12-point plan to boost email performance
The Guide's real-life content includes:
- 205 charts
- 66 tables and images
- 8 practical case studies with step-by step details
- Email eyetracking study with 8 heatmaps
- 39 pages of data on list growth
- 46 pages on email tactics and testing
- 51 pages on deliverability and testing
"The 2009 Email Marketing Benchmark Guide has been extremely helpful to my electronic marketing staff," said Denise Elliott, Vice President for Sales and Marketing for Kiplinger. "It helped us pinpoint areas that needed improvement because we were able to see the results from other B-to-B and B-to-C marketers. I'm sure our campaigns will be much more effective because of what we learned."
Research highlights in the Guide:
- Need for more personalized, segmented and tested email in a struggling economy
- Attitude toward email budgets that correlates with performance
- Offer real benefits in email content to increase opt-ins
- Email image blocking can be overcome
- International email marketing offers plenty of opportunities if you know the rules, regulations, and customs
"MarketingSherpa's email benchmark guide is one of the best resources out there for email marketers," said Tamara Gielen of OgilvyOne. "I especially like the fact that it is full of stats and charts that I can use to compare my own results with. The insights that you get from this guide are very useful in the day-to-day life of an email marketer."
Price of the Email Marketing Benchmark Guide is $397. It can be purchased by clicking here: http://www.sherpastore.com/embmg09.html.
MarketingSherpa publishes practical Case Studies, Benchmark Guides, exclusive research, how-to instructional materials and nine content-specific newsletters for more than 237,000 email, search, content, B-to-B and consumer marketing pros each week.
In its eighth year, the marketing research publisher has been praised by The Economist, Harvard Business School's Working Knowledge Site and Entrepreneur.com. Along with MarketingExperiments and InTouch, MarketingSherpa is part of the MECLABS Group, which offers marketers practical research data and information, professional training and networking summits.
Among the upcoming summits is MarketingSherpa's annual Email Summit '09 in Miami, Florida, on March 15-17, 2009. More than 800 marketing professionals will gather at the InterContinental Hotel to gather information and results from 24 proven and practical email campaigns. The summit is always the largest email event in the world each year.
Click on this URL for more information on Email Summit '09: http://www.sherpastore.com/emailsummitcert09.html?9641
###