Phillies Fans Cheer, Pirate Billboard Steers
In the midst of all the chaos that ensued during the Philadelphia Phillies Parade last Friday, one giant billboard braved the madness and advertised to hundreds of thousands of Phillies fans.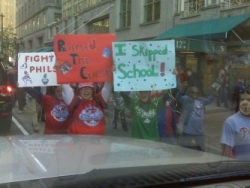 New Jersey, NJ, November 04, 2008 --(
PR.com
)-- All morning long, Phillies fans came in throngs to center city Philadelphia to catch a glimpse of the Phillies parade. For hours the streets roared as fans cheered and horns blew. The day to day activities seemed to come to a stand still as the parade ensued.
In the midst of all the chaos, one vehicle stood out from the crowd. Towering above the onlookers it stood 12' high, and stretched nearly 50' long. It carefully made its way through the crowd, taking in the energy of the excited fans, all the while proudly displaying 24" high letters spelling the word "AUCTION". It was impossible for tens of thousands of people to notice, and is quite possibly the most effective advertising method available to businesses today.
For
Pirate Billboard, LLC
however, it was just another campaign day in Philadelphia. Their custom route, targeting mostly center city and other high visibility areas is designed to get the largest amount of impressions for their current client,
Max Spann Real Estate & Auction Company
. On this particular day however their route was specifically chosen to hit Phillies fans while they cheered on their victorious team.
"It took us nearly an hour to travel about 5 blocks," said Paul Guerette, owner of Pirate Billboard. "It was so amazing how the fans just engulfed the vehicle, and cheered us as we drove through. It was perfect planning, resulting in an amazing day of advertising for our client."
Mobile billboard advertising, the most well known of alternative advertising methods is really picking up speed. With its fast response times and location flexibility, its a really powerful tool for companies looking for effective advertising. In Pirate Billboard's case, they have an exceptional edge over all other mobile billboard companies. Their product is the largest in the industry providing nearly 1000 square feet of advertising space... over twice the ad space of other mobile billboards... qualifying it for the name "Giant mobile billboard." "It really surprises me sometimes how we can get something so big in so many places, all the while getting such an amazing response from people. But then again, that is how we designed it to work," said Paul Guerette.
Apparently size isn't the only thing that sets this company apart. They take particular pride in how they take every campaigns location demographics, and timing into consideration. In addition to perfect planning, a lot of it has to do with the driver. If a certain route isn't turning out as planned, a quick decision needs to be made to get the days advertising done effectively. Every moment, every turn has to be considered. A driver just listening to the radio and not paying attention can miss opportunities, and make or break a campaign.
Mobile billboards aren't just for auctions either. Pirate Billboard has the perfect product for grand openings, trade shows, major events, product promotions and much more. It's a huge impact that makes other advertising methods pale in comparison. It is arguably, dollar for dollar, the best bang for your advertising buck available today.
Like Pirate Billboard says, once you go to the pirate, you never go back.
###
Contact
Pirate Billboard, LLC
Paul Guerette
201-323-6187
www.piratebillboard.com

Contact