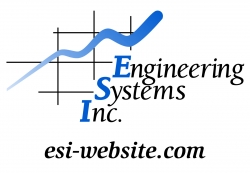 Chicago, IL, November 05, 2008 --(
PR.com
)-- Philip J. Daum, P.E., mechanical engineer and Senior Consultant, and Zdenek (Zed) Hejzlar, Ph.D., CSP, environmental scientist and Senior Consultant, both from Engineering Systems Inc. (ESI), will be giving a poster presentation, "Preventing Release – Improved Puncture Resistance of Hazardous Materials Tank Cars," at the upcoming 2008 Railroad Environmental Conference (RREC) at the University of Illinois campus in Champaign-Urbana, Illinois. This is a summary of work from the recently concluded "Next Generation Rail Tank Car" project, of which Mr. Daum was an integral part.
The 10th annual Conference, being hosted by the Railroad Engineering Program at the University of Illinois, has emerged as a principle gathering of the railroad environmental professional community. Each year, topics of particular interest to the industry are considered based on their quality and relevance, with a goal being current and emerging subjects of interest to railroads.
Mr. Daum has over 25 years of experience in the areas of mechanical engineering, railcar design, hazardous materials transportation, regulatory compliance and accident investigation. He is also experienced in the qualification, maintenance and modification of tank cars. He is a licensed Professional Engineer in Illinois and spent over 20 years with Union Tank Car Company, most recently as Director of Engineering. Mr. Daum can be reached at the Aurora, Illinois office at 630-851-4566.
Dr. Hejzlar has over 20 years' experience in premises/occupational safety and various aspects of the environmental and toxic health fields. He directs projects in safety and accident reconstruction related to a broad range of issues and also has extensive experience in material failure analysis and design. He holds several certifications and has published numerous articles and manuals. Dr. Hejzlar can be reached at the Fort Myers, Florida office at 239-482-0500.
###