Blaxpedia.com - A New Online African-American Event Search and Travel Site is Unique in Concept and Design
Blaxpedia.com is a new website that allows visitors to search a database of thousands of events of interest to African Americans. Searches can be done by event name, date or date range, city, state, region, or category. The site is partnered with Thompson Travel Service, a full service online travel agency, where you can book your flight, hotel and/or car after you find your event(s).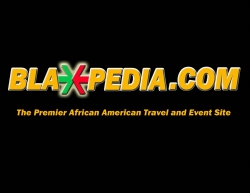 Memphis, TN, November 06, 2008 --(
PR.com
)-- Blaxpedia.com is a website designed to assist African Americans in planning trips centered around events that showcase the culture and customs of Black America. Blaxpedia.com allows you to search for events, by name, date, location, or categories, related to a particular event. Blaxpedia.com's extensive database includes seminars, conferences, conventions, festivals, concerts, sporting events, and much more, throughout the United States and abroad.
Extensive Database of Events
The database is updated regularly, and the owners of the site even encourage users and event coordinators to submit events not listed. Certain events on the site are highlighted and profiled as "Blaxtacular Events". These events are felt to be the biggest and the best. These events will typically have tens of thousands of African Americans in attendance annually. In the future the site plans to expand to include a complete guide of U.S. cities most visited by African Americans, cataloging all the attractions of the city, as well as highlighting black owned businesses of interest to travelers.
Complete Itinerary, Completely Free
Blaxpedia.com is a free service sponsored by Thompson Travel Service, a black owned discount travel site. After locating your event of interest, a link to Thompson Travel Service is provided so you can book a flight, hotel, and/or car for your event. Blaxpedia encourages users to register on the site. Information provided through registration allows owner to provide additional aids for your trip such as maps, guides, coupons, and etc.
Providing search engine capability of a broad database of events of interest to African Americans makes Blaxpedia.com truly unique in its concept and design. The founder, Stanley Thompson M.D. and co-founder LaShun Thompson are eager to share this innovative online travel experience.
Blaxpedia.com
embraces all ethnicities to utilize the site to discover their travel alternatives.
###
Contact
Blaxpedia.com
Stanley Thompson
901-508-6053
www.blaxpedia.com

Contact