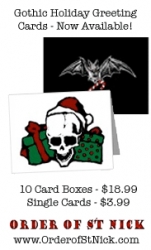 Iowa City, IA, November 25, 2008 --(
PR.com
)-- Greeting card publisher Order of St. Nick is serving up a new line of gothic Christmas cards that look at the dark side of the holiday season. The cards, available for sale on www.evilxmas.com, feature vampires, zombies, bats, undead pirates, and severed body parts galore, making them the perfect greeting cards for the hard-to-shop-for horror fans on everyone's Christmas list.
"Mixing dark imagery with the holiday season isn't new: Charles Dickens's A Christmas Carol, the first modern Christmas tale, was a gothic ghost story," Order of St. Nick's owner and creative director Andrew Shaffer says. "And right now, interest in the supernatural is at an all-time high," he says. He cites the recent #1 movie at the box office, Twilight, as an example of the mainstream appeal of the macabre in the United States.
Marketing industry maven Brandweek Magazine agrees. "In these new times, everyone should be accommodated in their beliefs and traditions, so there might well be a place for the Order of St. Nick cards," they stated in a December 2007 review of the greeting cards on their online Short Takes column.
20 different designs in all are available online at www.evilxmas.com. Consumers can buy the cards individually for $3.99 or in boxed sets of 10 for $18.99. Eight cards were introduced as part of Order of St. Nick's initial gothic Christmas card line in 2007, and they proved to be so popular that Shaffer expanded the line for this holiday season.
About Order of St. Nick
Order of St. Nick is a greeting card publisher specializing in
funny and alternative holiday greeting cards
. Online orders are fulfilled by Cafepress.com. Order of St. Nick is a privately-owned small business headquartered in Iowa City, Iowa.
###