Maravilla Scottsdale Forms Partnership with Fairmont Scottsdale and Scottsdale Healthcare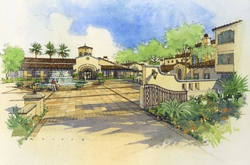 Scottsdale, AZ, November 25, 2008 --(
PR.com
)-- Maravilla Scottsdale residents and their families now have the opportunity to enjoy one-of-a-kind concierge services, resort amenities, as well as access to top-rated health and wellness programs as a result of the resort retirement community's partnerships with the Fairmont Scottsdale and Scottsdale Healthcare.
The AAA Five-Diamond Fairmont Scottsdale, located adjacent to Maravilla Scottsdale, is part of the family of Fairmont Hotels & Resorts, one of the largest luxury hotel companies in North America. As part of this distinctive collection of resorts, the Fairmont Scottsdale has a worldwide reputation for excellence. Set on 80 acres of beautifully landscaped grounds, resort amenities include 649 richly appointed guest rooms, the Willow Stream Spa (which has been ranked one of the best spas in North America by Condé Nast Traveler) and award-winning restaurants.
Through this strategic partnership, Maravilla Scottsdale depositors will be entitled to preferred room rates at the Fairmont Scottsdale, as well as benefits at the Willow Stream Spa, and the resort's numerous dining venues. Additionally, Maravilla future residents have access to the resort's Tennis Club and on-site Golf Concierge allowing them preferred tee times at The TPC Scottsdale's Champion and Stadium courses (home to the Annual PGA Tour FBR Open).
"Our companies share a pledge to hospitality of the highest measure: the Fairmont's five-diamond rating speaks for itself and Maravilla Scottsdale's Genuine Hospitality program is second to none in resort retirement communities," said Tim Cowen, executive director of Maravilla Scottsdale.
The newly formed alliance with the Fairmont was conceived more than two years ago and has been carefully crafted over time to become the only one of its kind in the Scottsdale area, and one of only a few in the U.S.
Maravilla residents will also benefit from the partnership with Scottsdale Healthcare, the Northeast Valley's premier medical provider. In addition to the innovative medical and surgical services found in its new, nearby Scottsdale Healthcare Thompson Peak hospital, the alliance will offer preventative and diagnostic care, as well as an array of health and wellness programs for the community.
Highlights of the Scottsdale Healthcare services to be provided at Maravilla Scottsdale will include a full-time RN, case management services, dedicated medical director and clinic, routine screenings and immunizations, wellness and fitness opportunities and more.
"These agreements are a testament to our commitment to provide discerning Scottsdale residents elevated services and amenities and an exceptional senior living environment," said Cowen. "We're thrilled to be able to provide a foretaste of the luxurious lifestyle Maravilla Scottsdale residents will come to know."
About Maravilla Scottsdale:
Situated on 25 acres in the northern end of Scottsdale, adjacent to the Fairmont Scottsdale and TPC Golf Course, Maravilla Scottsdale is scheduled to open by Spring 2011. Ideally located, this luxury 410-unit campus community will feature a variety of floor plans ranging from independent living casitas and courtyard residences to assisted living and memory care apartment-homes.
The Maravilla Scottsdale Sales and Information Center is open daily to view site plans, explore kitchen and bath vignettes, meet one-on-one with Sales Executives, and learn how Maravilla sets itself apart from other traditional retirement communities.
The community will feature visionary Spanish Colonial architectural styling and innovative design along with high-end amenities and services such as: gourmet restaurants, a café, bistro, clubhouse, enclosed and outdoor swimming pools, 9-hole chip-and-putt golf course, beauty salon and barber shop, bank, spa and other enriching amenities and recreational and social spaces. Residents will also take pleasure in the immaculate outdoor living spaces, including meandering trails and gardens as well as cultural meeting and performing arts venues.
Maravilla Scottsdale is now accepting fully refundable deposits to secure a position on the community's Priority Reservation List. For more information or to schedule a personal appointment, call 480-538-5600 or visit the community website at
www.maravillascottsdale.com
.
About Senior Resource Group:
Senior Resource Group, LLC (SRG) has been a leader in providing distinctive retirement living since 1988. SRG develops, owns and operates independent living, assisted living and Alzheimer's/dementia care communities throughout the U.S.
For more than 20 years, the company has championed the development and management of niche communities that provide older adults with service-enriched and supportive living environments. SRG's corporate headquarters is located at 500 Stevens Avenue, Suite 100, Solana Beach, CA 92075. For more information, call 858-792-9300 or visit www.srgseniorliving.com.
About The Fairmont Scottsdale:
Set against the backdrop of Arizona's McDowell Mountains, the AAA Five-Diamond Fairmont Scottsdale reflects its Southwestern setting with Spanish colonial-style architecture, expansive plazas and lush, flower-filled gardens. The resort features 649 oversized guest rooms, including 69 new Fairmont Gold rooms and suites, five heated swimming pools, the luxurious 44,000 square-foot Willow Stream – The Spa at Fairmont and championship golf at the adjacent TPC Scottsdale's Stadium and Champions courses. Dining options include the new Bourbon Steak, a contemporary new steakhouse by Chef Michael Mina and The Grill, which offers seafood and chops with stunning views overlooking the 18th green at the TPC Scottsdale Stadium Course.
About Scottsdale Healthcare:
Founded in 1962, Scottsdale Healthcare (www.shc.org) is the not-for-profit parent organization of the Scottsdale Healthcare Thompson Peak, Scottsdale Healthcare Shea and Scottsdale Healthcare Osborn hospitals, the Virginia G. Piper Cancer Center, Scottsdale Clinical Research Institute, TGen Clinical Research Services at Scottsdale Healthcare, Scottsdale Healthcare Home Health Services and Scottsdale Healthcare Community Health Services.
The Scottsdale Healthcare Thompson Peak hospital opened in November 2007 at Scottsdale Road and Thompson Peak Parkway. Designed with extensive patient and community input, the hospital offers emergency, intensive care, surgical, diagnostic and additional medical services, as well as a concierge for hospital patients and visitors. The Scottsdale Healthcare Thompson Peak medical campus includes medical offices housing physicians in a variety of specialties.
###
Contact
OutSmart
Constance Sablan
480-471-6761
www.maravillascottsdale.com

Contact