Skin Care for Athletes Moisturizes & Massages U.S. Olympic Swimmers
Tri-Body Spray a hit at the 2008 Golden Goggle Awards as part of the VIP Gift Bag Suite
Fuquay Varina, NC, November 27, 2008 --(
PR.com
)-- Skin Care for Athletes, the only organic and natural skin care line designed specifically for athletes spent the evening at the celebrated black tie affair moisturizing and massaging the skin of Athletes and Celebrities alike. Invited by GBK Productions to contribute to the 2008 Golden Goggle Awards VIP Gift Bag, the Tri-Body Moisturizing Spray was given to some 30 athletes, celebrities and presenters, at the awards dinner, held on November 17th in Manhattan, NY.
"We were elated at the responses that we received, especially from the male swimmers", stated Taylor Sparks, Founder/Principal Goddess of the Fuquay-Varina, based company. Eric Shanteau and Cullen Jones were both winners at this years event and took full advantage of the complimentary hand massage. "This is very moisturizing and not greasy", commented Eric. Cullen echoed those same sentiments jokingly stating how, "it is important to keep the ash away", which is the appearance of dry skin on darker complexioned individuals. Ana Ortiz, star of the hit show Ugly Betty, said, "I love, love the smell and it feels so nice."
"It gives us a great source of pride to be recognized as one of the leading organic and natural skin care lines focused soley on the skin care needs of the athletes. This is especially ideal for those athletes that are looking for more "green" and organic products and those that are vegetarian as our products do not contain any animal products or animal by products," says Ms. Sparks.
Skin Care for Athletes has three products in the market, the Tri-Facial Serum, Tri-Body Spray and the 3-in-1 Tri-Body Wash. Ms. Sparks notes that all though the line is designed specifically for athletes, it works quite well on the athletically inclined.
Once a year, the swim caps come off and the glamour comes out. Each November, the USA Swimming Foundation hosts the Golden Goggle Awards, a Hollywood-style gala event that celebrates the sport and raises awareness of issues like water safety, fitness and drowning prevention.
About Skin Care for Athletes
Skin Care for Athletes is the only organic and natural skin care line designed specifically for athletes. The company sponsors races from 5ks to marathons and triathlons and athletes from the amateur to the elite and pro levels. Skin Care for Athletes products does not contain any chemicals, sudsing agents, colorants or man-made fragrance and they do not test on animals.
www.skincareforathletes.com
###
Contact
Skin Care for Athletes by Morning Indigo
Taylor Sparks
919-285-9364
www.skincareforathletes.com

Contact
Multimedia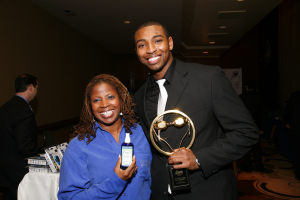 Cullen Jones receives his Tri-Body Spray Gift from Skin Care for Athletes Founder Taylor Sparks.