A Little Toy That's Free and Making a Big Difference This Holiday Season
They are offering to people who can't really afford to purchase expensive toys this Christmas a free toy for a small nominal shipping fee. This is an all American made green toy that is making a difference in the world.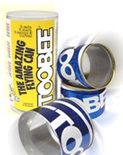 Sussex, WI, December 07, 2008 --(
PR.com
)-- Toobee International announced today it will give away up to 30,000 of its popular product, Toobee, the Amazing Flying Can. The toy is free to all who request it through the company's website at
www.toobee.com
. A nominal shipping charge is collected.
So. Why would someone want to give away a toy that has no problem selling in a retail environment for $9.95?
"Plain and simple, we wanted to spread a little fun. We wanted to help people find a reason to smile in these tough economic times." Said Toobee President, Greg Stromberg. "It's a toy that turns heads and creates good, clean fun wherever it goes. It brings people together. And is the perfect cure for sedentary lifestyles." "Ultimately, I want Toobee to be able to make a difference in society. To bring about positive change," Stromberg added.
In keeping with that goal, 100% of all profits go to select children's charities worldwide.
CannedWater4Kids (www.cannedwater4kids.org) , a charity committed to bringing clean, safe water to children everywhere, is one such charity.
Designed by two aeronautical engineers, the patented high-tech aluminum airfoil is only .005 inches thick and weighs less than 3 grams.
Toobee can be tossed for distance, accuracy, fun, or competition. Just grip it and throw Toobee with a spin like a football. Watch as it sails, soars, swoops, and curves. The world distance record is 283 feet -- not bad for something that weighs less than a marshmallow.
The toy is designed for ages 6 to 106 and can be played alone, with the family, or with a group of friends. It has no sharp edges and is safe indoors or out.
In contrast to many toys on the market today, Toobee is made in the USA. It is 100% recyclable making it a "green toy," and comes with a lifetime guarantee.
Toobee International is the manufacturer of Toobee(R) the Amazing Flying Can. Based near Milwaukee, Wisconsin, the company specializes in the development and marketing of fun-based ideas.
For more information, or to see Toobee in action, visit the company's website
at:
http://www.toobee.com/
###
Peter Gorman
414-791-5611 Cell
312-224-1681 Res.
1admakr@gmail.com
Contact
Toobee International Inc.
Greg Stromberg
262-246-8480
www.toobee.com
selltoobee@gmail.com

Contact