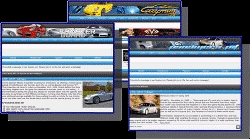 Overland Park, KS, December 11, 2008 --(
PR.com
)-- CaymanClub.Net, the number one model specific Porsche site in the world is announcing the general availability of two new sites available in the automotive family: BoxsterBoard.Com and PanameraPit.Com. Due to the overwhelming success of CaymanClub.Net, for all things Porsche Cayman related, CaymanClub.Net is extending its product line to cover all existing Boxster models at BoxsterBoard.Com and the upcoming Porsche Panamera at PanameraPit.Com. CaymanClub.Net's founder had the following to say about the new sites: "I'm very pleased that we are able to address the requests of many of our members to expand our model coverage while maintaining highly focused community sites that allow members to share their passion for fine automobiles. I would also like to thank our sponsors for celebrating our success by providing our members with numerous specials to commemorate the launch of our new sites. We have our work cut out for us to foster and grow these new sites, and when we replicate the success we've had with CaymanClub.Net I see no reason why we wouldn't expand to cover other models and potentially other makes in the future."
The Boxster Board is available at
BoxsterBoard.com
The Panamera Pit is available at
PanameraPit.com
A complete list of sponsor product and service specials being offered can be found here: Sponsor Site Launch & Holiday Sales Specials.
###