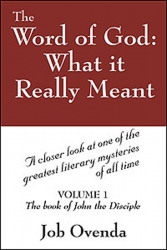 Bethesda, MD, December 24, 2008 --(
PR.com
)-- Outskirts Press author Job Ovenda takes a closer look at one of the greatest literary mysteries of all time—the Gospel—in The Word of God: What It Really Meant Volume 1, and came up with a startling revolutionary code. He takes a careful look at the rationale of the words within the Bible itself and presents an interpretation of terms and references to unravel the essence of the meaning behind them.
At first glance, this book appears to be a religious tome, but it is actually a philosophical work that will appeal to a wide audience, regardless of faith or nationality. It is a verse-by-verse interpretation of the gospel according to John, the disciple of Jesus, and it differs from conventional interpretations as it considers the figurative aspects of the gospel. Using a unique approach and a reader-friendly format, the book delivers surprising implications. In the end, the real essence of the book lies in the most important point it is trying to convey—the love and the will of God for men.
The Gospel is by its very nature open to gross misinterpretation. Ovenda maintains that by meticulously searching for the rationale of the words themselves, misunderstandings in translation can be cleared up, leading the way to true salvation. Ironically, these misinterpretations usually originated from men who considered God in very high regard, making their own personal opinions working doctrines and traditions long held to be truth. These doctrines have led to a great deception, threatening the very existence of man himself.
The word of God is the acknowledged basis for the salvation of men. Jesus brought the word to worshippers so that they could be guided in their interactions with fellow humans and with God. By being righteous in their ways, men could look forward to life after death and become a part of the kingdom of God.
The book encourages men to look for the truth in the gospel as a starting point to inspire them to seek their more important goal in life—salvation. For those who are not worshippers of God, Ovenda believes the same essence of the truth presents itself in other religions: They need only to look for it within themselves.
ISBN: 978-1-4327-3170-0 Format: 6 x 9 paperback SRP: $24.95
Genre: Religion/Bible Studies
For more information or to contact the author, visit www.outskirtspress.com/thewordofgodwhatitreallymea...
About Outskirts Press, Inc.: Outskirts Press, Inc. offers full-service, custom self-publishing services for authors seeking a cost-effective, fast, and flexible way to publish and distribute their books worldwide while retaining all their rights and full creative control. Available for authors globally at www.outskirtspress.com and located on the outskirts of Denver, Colorado, Outskirts Press represents the future of book publishing, today.
###