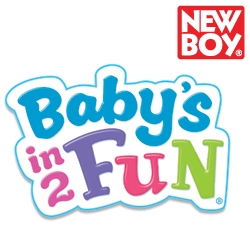 Dubai, United Arab Emirates, December 20, 2008 --(
PR.com
)-- Dubai-based NewBoy, one of the region's premier toy companies is launching its latest range of educational toys at The Mother Baby & Child Show which opens Thursday, 18 December, at the Dubai International Exhibition Centre.
NewBoy will be distributing 15,000 supplementary DVDs containing animated songs, which bring the characters of their new Baby's In2 Fun range of toys to life.
"Baby's In2 Fun, has been developed as a total entertaining and educational product line for babies and toddlers. Each product group has its own unique features and benefits that have been specifically designed for this age group," said Manar Tarabichi, CEO, NewBoy.
"The brand offers parents exactly what they are looking for in any toy for their baby or toddler. The range will stimulate and entertain, offering engaging children the chance to develop an array of investigative skills," added Tarabichi.
Baby's In2 Fun products feature a series of characters, accessories, mobiles, activity centres and even a musical TV. Through various turns, clicks and touch buttons, various play values are triggered which help to develop learning and social skills. The benefits of this interaction encourage the skills and concepts that a baby or a toddler must develop, such as reasoning, focus, attention, confidence, self esteem, organization and sharing.
Hani Orfali, Senior Manager, Brands & Private Division, NewBoy, commented, "We decided to launch Baby's In2 Fun at The Mother Baby & Child Show due to the sheer volume of visitors it attracts. Last year the show recorded 25,000 visitors over three days. That gives us an ideal opportunity to gain valuable market reaction direct from the consumers."
In terms of pure entertainment, the product range is also supplemented by six specially developed animated songs which will appear on TV Channels, to support the launch.
"The songs are animated in an extremely simple and entertaining way that engages infants and toddlers. The animation brings the associated product characters to life driving a child's imagination," added Orfali.
NewBoy's primary target market is the extensive Middle East, but is also launching the multilingual range into Indonesia and India. The products are manufactured to the highest quality standards in the industry and their retail prices are highly competitive. Baby's In2 Fun products have passed all rigorous safety tests and requirements for Europe, USA and the Middle East.
About NewBoy
NewBoy FZCO is the leader in the Middle East toy market engaged in the development, marketing and distribution of various toys, food, textile and stationery products. The company also acquires, sells, and markets licenses for some of the hottest cartoon characters throughout a number of product categories.
Headquartered in Dubai, UAE, the company has direct operations in GCC, Levant, and North Africa, in addition to India and Indonesia. NewBoy represents famous international toy brands and has its own portfolio of private label brands including Fulla (the number one fashion doll in the Middle East), Fun to Learn, Baby Habibi, Arabian Friends, Baby's In 2 Fun, and Play Time.
For more information, please send your request to: info@newboy.com.
###