Former Spanish Prime Minister Says Liberty Reduces Poverty
José Maria Aznar attributes prosperity to Ibero-American liberty and inspires next generation of Latin American leaders in Chile.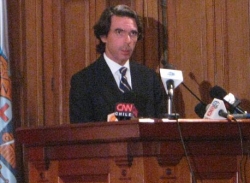 Washington, DC, January 15, 2009 --(
PR.com
)-- Fifty-two students from across Latin America were welcomed by former Prime Minister of Spain José Maria Aznar to the first session of the Institute for Leadership in the Americas (ILA) sponsored by The Fund for American Studies (TFAS).
On Monday, 12 January, 2009, Aznar addressed students and the press corps about the need for fortifying the rule of law and individual freedom in Latin America. "Ibero-American liberty, where the rule of law is respected, is the only system that has proved time and again to maximize the number of people who prosper and to reduce poverty," he stated.
Aznar became a Distinguished Scholar in the Practice of Global Leadership at Georgetown University in Washington, D.C. in April 2004. In 2008, he was given the annual Vašek and Anna Maria Polák Charitable Foundation Award sponsored by TFAS.
"Having Mr. Aznar open this program underscores the importance of teaching principles of freedom and liberty under the rule of law, and for maintaining those institutions that spread prosperity in Latin America" said ILA Director Jon Perdue. "This region shares a common language, ancestry and history. Having Prime Minister Aznar speak about the same themes that we try to impart to our ILA students in class is a great help to our program. It made a big impact on the students."
ILA is held in conjunction with Catholic University in Santiago, Chile. Over the next two weeks ILA students will study foundations for Chile's "economic miracle" and learn about the political and economic necessities of a free society.
"Our aim is to provide the next generation of leaders with an understanding of the fundamentals of a free society, so they can apply the concepts to their efforts in their home countries," said Perdue.
The students hail from Argentina, Guatemala, Colombia, Chile, Mexico, Brazil, Peru, Bolivia, Venezuela, Uruguay, Honduras, Panama, Puerto Rico, the Dominican Republic and the U.S.
Lecturers for the ILA program include Dr. Rolf J. Luders, professor of economics at Catholic University; Dr. Patrick J. Deneen, associate professor of government at Georgetown University; Dr. Alejandra Salinas, director of the Department of Economics and Social Sciences at ESEADE Graduate School Buenos Aires; and Dr. José Pinera; the architect of Chile's private pension system. To learn more about ILA, visit www.TFAS.org/ILA.
###
Contact
The Fund for American Studies
Patrice Lee
202-986-0384
www.tfas.org

Contact