IonSense Announces the Expansion of DART® Ion Source Product Line to Include TOF Mass Spectrometers
The Popular Direct Analysis Technique is Now Available for Time-of-Flight Instruments, Expanding the Range of Applications.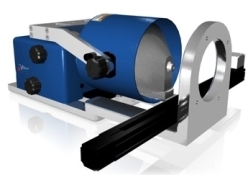 Saugus, MA, January 27, 2009 --(
PR.com
)-- IonSense, Inc. today announced an expansion of its license agreement with JEOL USA to include the production, sales and distribution of the DART-ET Ambient Pressure Desorption Ionization Sources for all time-of-flight (TOF) mass spectrometers. The new agreement enables sales of the popular DART technology to the full range of LC/MS products offered by the major instrument vendors including Agilent, Thermo, Waters, JEOL, Bruker and Applied Biosystems/MDS Sciex.
Since its formation in November 2005 the company has produced direct-analysis-in-real-time or DART ion sources for a broad range of applications in the fields of drug development, food safety, forensics, chemical synthesis, and medicinal chemistry. "With the expanded license we are pleased to be able to offer the DART technology to our colleagues including those with TOF instruments," says Dr. Brian Musselman, IonSense Chief Operating Officer. "We have had many requests for this and are pleased that we can respond to scientists that want to expand the use of DART."
The agreement will allow the company to market and sell sources for both single TOF analyzers as well as quadrupole-TOF instruments. The company already manufactures interfaces for connecting the DART source to non-TOF MS systems under its original agreement. The ability to readily record accurate mass as well as tandem mass spectra will provide higher confidence for identification and quantification of critical samples such as food ingredients, tablets, ADME samples, thin-layer chromatography plates, and new drug compounds.
The DART-ET incorporates an automated linear slide for easy sample positioning and an adjustable DART source holder, providing the means to adjust the angle at which the desorption gas strikes the target. This integrated sample handling system is accompanied by a new collection of customized sample positioning modules. There are now over 100 DART ionization sources deployed in laboratories around the world.
About IonSense, Inc.
IonSense, Inc. (
www.ionsense.com
) manufactures and develops direct analysis in real time (DART) technology licensed from JEOL USA, Inc. The company manufactures DART sources and accessories for JEOL and provides those sources for end users of Thermo, Agilent, Applied Biosystem/MDS SCIEX, Bruker and Waters mass spectrometers. DART sources and AutoDART(TM) sampling systems area also sold by LEAP Technologies, Carrboro, NC and KR Analytical, Cheshire, UK in the EU.
For additional information, Contact: Brian Musselman, Ph.D., Chief Operating Officer, IonSense, Inc., Tel. 781-484-1043, musselman@ionsense.com.
###
Contact
IonSense, Inc.
Brian Musselman
(781) 484-1043
www.ionsense.com

Contact