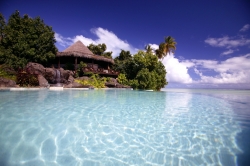 Aitutaki, Cook Islands, January 30, 2009 --(
PR.com
)-- Pacific Resort Aitutaki has been chosen as a Best Luxury Hotel in the World & Best Luxury Hotel in the South Pacific by TripAdvisor® in its 2009 Travelers' Choice awards. Now in its seventh year, the TripAdvisors Travelers' Choice awards honour the world's best hotels, earning their distinction from those who know them best – real travelers.
Unlike any other hotel awards programs in the world, TripAdvisor® Travelers' Choice winners are based on the millions of real and unbiased reviews and opinions about hotels on tripadvisor.com and content from across the web.
"TripAdvisor travelers always appreciate great values, and 2009 is certainly no exception. The 2009 Travelers' Choice awards highlight more bargain properties than ever before with 190, nearly five times as many as last year," said Michele Perry, vice president of global communications for TripAdvisor. "Millions of real travelers worldwide have helped identify these outstanding hotels, recognized for their exceptional accommodations, service, and value."
Pacific Resort chief executive officer Greg Stanaway says this award provides further testament Pacific Resort Aitutaki's position as one of the world's leading luxury resort's. The list of accolades for Pacific Resort Aitutaki in recent years is extensive with the resort collecting the following awards in 2008 alone:
- 'World's Leading Boutique Island Resort' - World Travel Awards
- 'Top 20 Resort - Australia & Pacific' - Conde Nast Traveler's Readers Choice Awards
- 'Luxury Island Resort' - World Luxury Hotel Awards
- 'Australasia's Leading Boutique Resort' - World Travel Awards
- 'Cook Islands Leading Resort' - World Travel Awards
For the complete 2009 Travelers' Choice list, go to www.tripadvisor.com/travelerschoice
For more information on Pacific Resort visit www.pacificresort.com
Notes to Editors
About Pacific Resort Aitutaki
Secluded Luxury…Like a siren of the Pacific, Aitutaki, Cook Islands, beckons you. This magical place, full of South Seas idyll and romance, is home to Pacific Resort Aitutaki, an enclave of privacy, refinement and luxury, that seduces even the most discerning traveller. Pacific Resort Aitutaki has just 27 luxurious 'absolute beachfront' bungalows, suites and villas all with their own personal, panoramic view of Aitutaki's world-famous lagoon, where every sunset majestically captures the colours of the lagoon and the ocean beyond.
And even when your idyllic getaway comes to an end, the seduction doesn't stop. When you return home feeling refreshed and rejuvenated, you'll pause every now and then to revisit your magical memories of the experience that is Aitutaki. Memories of this exclusive, luxurious, romantic sanctuary will hold you in its spell forever. For more information visit
www.pacificresort.com
About TripAdvisor Media Network
TripAdvisor® Media Network, operated by TripAdvisor, LLC, attracts more than 32 million monthly visitors across 13 popular travel brands: TripAdvisor®, www.airfarewatchdog.com, www.bookingbuddy.com, www.cruisecritic.com, www.frequentflier.com, www.holidaywatchdog.com, www.independenttraveler.com, www.onetime.com, www.seatguru.com, www.smartertravel.com, www.travel-library.com, www.travelpod.com and www.virtualtourist.com. TripAdvisor-branded sites make up the largest travel community in the world, with more than 25 million monthly visitors*, nine million registered members and 20 million reviews and opinions. Featuring real advice from real travelers, TripAdvisor-branded sites cover 300,000+ hotels and attractions and operate across the world. For more information visit www.tripadvisor.com
###