The Science of Weight Loss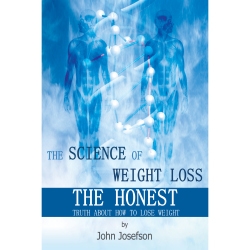 New York, NY, March 09, 2009 --(
PR.com
)-- In February 2009, the New England Journal of Medicine, published a study by Dr. Frank Sacks of the Harvard School of Public Health and others. In their study, they showed that it doesn't matter which diet you choose: if you want to lose weight, you'd better reduce your calorie intake. In the book "The Science of Weight Loss - The Honest Truth About How to Lose Weight" (ISBN 978-1-4092-3335-0), author John Josefson gives the only clinically proven recipe for losing weight: lowering the number of calories in, or increasing the number of calories out.
Weight loss isn't brain science, but that does not mean that losing weight is easy. In the book, which is now available through Amazon and book stores throughout the country, Mr. Josefson makes clear that there are no magical cures for how to lose weight. The book is intended for those who are serious about losing weight, and want to know what's really important: understanding how the body works.
The reader is given a good introduction to what happens in the body when you lose and gain weight, and how to regulate this process through the food you eat. Following from this, the book goes through the process of burning calories, how to keep ones weight and stay on track, as well as how to go about it, practically, to lose weight.
This new book from John Josefson is not a miracle cure. It won't help anyone lose several pounds a week. But it will give everyone the knowledge they need to be able to decide on their own diets, regulating their intake of calories, and ensuring a stable and reliable weight loss, which will be sustainable over time.
R. E. Schultz writes on Amazon about the book: "The book contains exactly what I was looking for, including basic physiology and how the body processes proteins, carbohydrates, fats and alcohols, and how excess calories are stored and used in the body. This information is presented in concise, easy to understand language which doesn't require any background in physical chemistry. The discussions about balancing calories in vs. out and the physical activity required to produce the deficits necessary to realize practical weight loss goals are the heart of the book. I was definitely surprised by these honest, well qualified, numbers and I believe that this information can be used by anyone in a practical manner to achieve personal results. Highly recommend."
About the author
John Josefson has been actively writing for years and among his recent publications can also be found the book "With a License to Kill" (ISBN 978-1-84753-026-4), a critical study of the pharmaceutical industry and its current practices. He has been most active in the health industry with giving advice on weight loss and organizing self-help groups for people struggling with their weight. He has lived and worked in Sweden for many years, but is mostly active in projects with the USA.
###
Contact
John Josefson
+1-909-919-0815
www.lulu.com/content/4211291

Contact