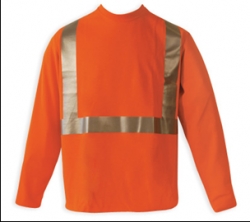 Columbus, GA, March 10, 2009 --(
PR.com
)-- Protective clothing provider DRIFIRE® will showcase its high-visual yellow and orange heavy-weight safety shirts. The garments were made in conformance with the DRIFIRE flame resistant variant of a patented
performance apparel
blend, and which have just earned ANSI 107 Certification.
This standard, developed by the International Safety Equipment Association (ISEA) and published by the American National Standards Institute, Inc. (ANSI) in June 1999, is the accepted standard for the design and performance of High Visibility Safety Apparel.
According to ANSI, determining the standard required years of testing and evaluation of both reflective and fluorescent materials. The result was a method of determining what characteristics will provide the greatest visibility of the wearers and will make them more conspicuous.
DRIFIRE was able to offer a higher level of protection as a result. Wearers of ANSI 107 compliant apparel are much less likely to be injured or killed by moving vehicles or equipment than those who are wearing non-compliant apparel. Today, regulatory bodies involved in a number of industries have adopted the ANSI 107-2004 standard. Some of these include the Federal Highway Administration (FHWA).
"Achieving the ANSI 107 in a heavy-weight performance high-visual garment with FR means DRIFIRE has uniquely combined three levels of important protection and performance in one. Now, for the first time, these new DRIFIRE products meet the needs of active, at-risk professionals who must have high visibility garments, who desire the highest performance blend with the fastest drying technology that optimizes
moisture wicking
and thermoregulation, and who wish to also have the FR protection engineered in to our formula through the unique use in our blend of self-extinguishing fibers garment," said President and Chief Executive Officer, L. Gene Cone.
Additionally, Mr. Cone noted, the company's high visual heavy weight shirts, which have an arc level 2 rating, can be customized upon request with FR retro-reflective tape.
Advanced, Anti-Static, Antibacterial Prototype Garments on Display for First Time
DRIFIRE is also currently in the midst of developing advanced woven garments. This new product will incorporate high tech carbon fibers and antibacterials with the DRIFIRE performance wear solution. Included in the development are
FR coveralls
, a Chambray shirt and Navy shirt.
This new safety garment product line will use carbon fibers to dissipate static electricity for workers in the military and in commercial situations. In combination with other DRIFIRE outer and undergarments, all of which will be on display, these new products form an important part of the company's unique system of layered performance
FR clothing
offerings that, when worn in layered combinations of innerwear and outerwear, further reduces the risk of serious burns.
About DRIFIRE LLC: DRIFIRE® is an engineered hybrid line of flame resistant performance garments utilizing the patented dri-release® moisture management technology enhanced with proven flame resistance. DRIFIRE is the industry-first line of Performance FR garments, providing the optimal combination of flame resistance, moisture management and comfort, making it the performance garment of choice for anyone who faces potential exposure to flame and flash fire, such as military personnel, law enforcement professionals, firefighters and others in occupations with a potential exposure to burn risks. DRIFIRE garments keep active men and women cool and dry in the heat and warm and dry in the cold and provide a level of thermal protection, are self extinguishing and have no melt, no drip characteristics. The technology has been exhaustively tested and has been proven to work in both lab and real-life settings. Additional information about DRIFIRE is available at
http://www.drifire.com
.
###