Mystery Thriller Spam & Eggs Garners Praise from Reviewers, Readers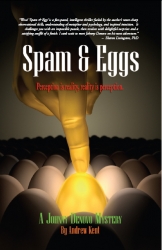 Boston, MA, March 12, 2009 --(
PR.com
)-- The new mystery thriller "Spam & Eggs: A Johnny Denovo Mystery" is garnering praise from reviewers while also entertaining a growing legion of readers who have discovered the series.
Reviewers have praised "Spam & Eggs" as "a masterpiece of deductive challenge, engrossing reading, and engaging entertainment" (ReaderViews) and "a clever, intellectual mystery that will leave you wanting more of Johnny Denovo in the future" (RebeccasReads). For readers, it's "[a] fresh and entertaining take on the detective novel" and "a fast-paced, fun thriller."
"Spam & Eggs" introduces the smart new voice of Andrew Kent, a writer in central Massachusetts. This is the first of the Johnny Denovo mysteries, with another title, "The Green Monster," scheduled to publish in late summer 2009.
To keep up with the adventures of Johnny Denovo and for more information, visit www.johnnydenovo.com.
"Spam & Eggs: A Johnny DeNovo Mystery" is available now through Amazon.com, Barnes & Noble.com, and other online retailers. It is also available for the Kindle, the Sony Reader, and the iPhone, as well as through your local bookseller.
###
Contact
Andrew Kent
508-898-2919
www.johnnydenovo.com

Contact