Unicon Systems Ships the Helios Digital Signage System
Unicon Systems Ships the Helios Digital Signage System - First to build on mobile/wireless technology with rich content display.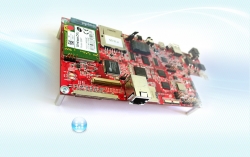 Cupertino, CA, March 13, 2009 --(
PR.com
)-- Unicon Systems, developers of CCOTS™ mobile devices and scalable Systems-on-Display (SoD™) technology for mobile applications, today announced the delivery of a new Digital Signage System called Helios.
The Helios Digital Signage System is a first in its class – a cost-effective, feature-rich, wireless solution for infotainment and advertisement in public areas. The Helios brings the reliability and convenience of mobile technology into digital signage space previously dominated by bulky legacy PC-based solutions.
The Unicon Systems Helios features a powerful compact Linux-based platform attached directly to the back of the display screen (no tuner board required). It offers dependable and secure content delivery over a range of network connections. The Helios also boasts minimal power consumption, low heat generation and is virtually maintenance free. Applications of the Helios platform include digital advertising, retail and transportation information display, point-of-sale, vending, kiosk and security systems.
"The Helios brings the high integration and small form factor found in mobile devices to the world of digital advertising and public display systems," noted Dimitriy Ivanov, CEO Unicon Systems. "We designed the Helios explicitly to meet emerging demands from OEMs and integrators for flexibility and functionality in ubiquitous computing."
Helios Features
The Unicon Systems Helios platform offers OEMs, integrators, display systems designers and other developers a range of capabilities at a very attractive price-point:
- Network connectivity over WiFi, GSM, Ethernet and ACLan networks
- Operation with HD720p screens of up to 85", including all leading digital signage display monitors.
- Video and playback of most popular media content formats
- Diskless operation using internal SD card memory with storage of up to 30 hours of multimedia content
- Built-in video camera and microphone ideal for security surveillance, teleconferencing and other applications.
- Integrated NFC module enables electronic payment processing, and other secure wireless operations
- Standard support for Linux directly from Unicon Systems
Pricing and Availability
Helios is scheduled for volume production in May 2009 and will be sold directly through Unicon Systems sales channel. Contact Unicon Systems for pricing and detailed technical information at http://www.uniconsys.com.
About Unicon Systems
Unicon Systems SoD™ platforms enable content-rich, high performance user experiences across a range of industries and applications. Unicon's unique CCOTS™ (Customizable Commercial Off-the-Shelf) approach speed development and deployment of mobile and display applications in wireless, automotive, transportation, consumer electronics and other industries.
Unicon Systems complements the next-generation CPUs and rich peripheral sets on its CCOTS hardware platforms with ready-to-use Linux-based operating systems, drivers, middleware and select applications. The combination of core technology, scalable integrated display size and ready-to-deploy software is hard to beat. Join the growing list of OEMs, operators and other companies that turn to Unicon Systems for rapid device prototyping and reliable deployment - by far, Unicon offers the fastest time to market and greatest opportunities for differentiation of any mobile wireless and display platform supplier.
Founded in 2004, Unicon Systems, Inc. is a private company, located in the heart of Silicon Valley. Learn more at
http://www.uniconsys.com
###
Contact
Unicon Systems, Inc.
Elena Petrova
888 567 6330
www.uniconsys.com

Contact