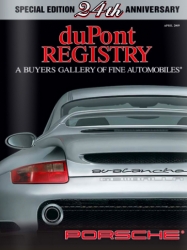 St. Petersburg, FL, April 02, 2009 --(
PR.com
)-- It all started back in 1985 when publisher, Thomas L. duPont and his Partner and CEO, Steven B. Chapman decided to launch a magazine dedicated to the buying and selling of classic, luxury and exotic cars. There were a total of four people working in a couple of thousand square feet of office space in downtown Tampa, Florida. Twenty-four years later, the world may be very different but somehow the love affair between men and automobiles is still the same.
Publishing has seen many technological advances over the last few decades and so has the luxury marketplace. In fact, if you were to pour through hundreds upon hundreds of back issues of the duPont REGISTRY(TM), and distill them into one, you would have a compendium of market history and knowledge. "We have seen several recessions come and go and we're patiently waiting on the most recent one to fade away in the rearview mirror," duPont continued.
The duPont REGISTRY A Buyer's Gallery of Fine Automobiles
Twenty-four years, hundreds of issues, thousands of pages and billions of dollars worth of luxury cars have led the duPont REGISTRY(TM) to the beginning of a milestone year. As the company begins to savor the thought of being witnesses to a quarter century of publishing the leading marketplace magazine for the buying and selling of classic, luxury and exotic cars, it looks forward to satisfying the desires of the lifestyle of the rich and famous, and those who have an abiding love for amazing automobiles.
###
Established in 1985, the duPont REGISTRY A Buyer's Gallery of Fine Automobiles® magazine still looks much like it did back in 1985; four color, perfect bound and chock full of cars for sale with no boring editorial. The cars may have evolved technologically, but the curvy lines and massive horsepower that make these thoroughbreds so special are still the primary draw for those who have an affinity for these special automobiles. The marketplace has also seen a big demand for private jet travel, watches, jewelry, specialty wheels, and high-tech products and services. As a result, ad pages for such services have increased dramatically along with the automotive market.® is Published 12x Annually by duPont Publishing, Inc. The publications website, www.duPontREGISTRY.com, is one of the most visited luxury portals on the net with nearly 400,000 unique visitors per month.