WebORB for Java Now Supports Sun GlassFish Enterprise Server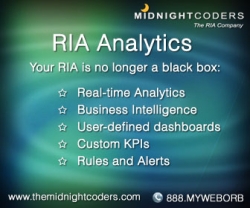 Frisco, TX, April 03, 2009 --(
PR.com
)-- Midnight Coders announces WebORB support for Sun GlassFish(TM) Enterprise Server - a winning combination for building Java(TM) software-based Rich Internet Applications (RIA). WebORB for Java is the RIA industry's most robust integration and runtime (presentation) server and Sun GlassFish Enterprise Server is the price/performance - leading open source application server offering, for both lightweight and enterprise-class RIAs. Combining the two results delivers fast start-up time, rapid iterative development and strong support for NetBeans(TM) IDE 6.5 and Eclipse. Furthermore, WebORB can be embedded into any Sun GlassFish Enterprise Server platform. .
The combined offering supports RIA project developers in projects both large and small by providing:
· Robust RIA development and deployment in a Java runtime environment.
· RIAs requiring high scalability and performance.
· Centralized application management for IT staff.
· Connectivity to multiple client-side technologies (Flash, Flex, Ajax, Silverlight and soon JavaFX(TM)) and Java software-based servers.
· A team-based approach to project success.
· Solid product roadmap for current and next generation technologies.
Developers are welcome to visit www.themidnightcoders.com or http://www.sun.com/software/products/glassfish_portfolio/ to learn more about each product and their associated product downloads.
Midnight Coders, Inc – The RIA Company is the only U.S.-based software developer of cross-platform, client-agnostic Rich Internet Application (RIA) solutions used for development, testing, runtime execution and application intelligence needs. The company's products and services drastically reduce total time and cost to build RIAs created in Flex, Flash, Silverlight and Ajax with better outcomes in application performance and breadth of offering.
Sun, Sun Microsystems, the Sun logo, GlassFish, Java, JavaFX and NetBeans are trademarks or registered trademarks of Sun Microsystems, Inc. or its subsidiaries in the United States and other countries.
###
Contact
Midnight Coders
Kathleen Erickson
214.550.0177
www.themidnightcoders.com

Contact