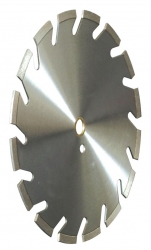 Staten Island, NY, April 14, 2009 --(
PR.com
)-- Diamond Blade Dealer, a leading wholesaler of diamond blades and related masonry supplies, is pleased to announce the launch of their new website. The re-designed website aims to provide a better customer experience while maintaining the low prices the company is known for. Customers will find it easier than ever to find high quality products at some of the most affordable prices in the industry due to the easier navigation, trouble shooting tips and enhanced product images that have been integrated into the new site at DiamondBladeDealer.com.
The new Diamond Blade Dealer website is being launched at a crucial time for the company, as well as the overall construction industry. With the slow-down that has occurred in the construction industry due to the economy, as well as the general economic climate, everyone in the industry has been forced to scrutinize how money is spent. The pricing offered by Diamond Blade Dealer is a welcome addition to the market and the newly redesigned website now makes it easier to find quality products at low prices.
In this economy, contractors, municipalities and do-it-yourselfer's all need to rethink the way they spend their money.
"We have seen a huge increase in customer acquisition and sales over the past six months," says Joe Martino, CEO and co-founder of DiamondBladeDealer.com, "due to the fact that contractors are now going online to find the lowest prices available for the products they routinely use, instead of shopping at their local masonry supply stores." Martino further explains the huge increase in Diamond Blade Dealers' sales figures due to the fact that, "our prices are usually 20-40% less than our competitors, but even more importantly, the quality of our products far surpasses that of products offered by other companies which allows for longer use of the products. The superior quality helps to bring down the overall cost of use for our customers, in addition to the lower prices."
Diamond Blade Dealer is able to offer such low prices due to the structure of their business model and their volume of sales. Since they operate solely online and do not maintain a brick-and-mortar store, they are able to reduce overhead costs and pass that savings on to their customers. Another aspect of their business that has led to their success includes their commitment to customer service. The redesign of their website is just one measure of that commitment. "We want to make the customer's experience as quick and easy as possible, because we know our customers have better things to do than to spend time shopping for blades and other supplies," explains Martino.
Diamond Blade Dealer's business model is a win-win situation for both the company and its customers. As Joe proudly says, "We know we are on the right track." Diamond Blade Dealer receives a lot of positive feedback from its customers on a regular basis. They do not solicit customers, but rather receive most new customers through referrals from existing customers. Other customers stumble upon the site online, and once a customer finds them, they usually continue to use the company as their sole source for diamond blades and other masonry supplies because of the low prices, high quality products and great customer service.
"I can't tell you how many times over the past few months I have spoken with new customers who all say the same thing – 'I have been using diamond blades for years and never used such high quality blades, especially at these prices!'," explains Martino. That statement makes him smile, but isn't surprising to him since he is confident that his company offers the best quality products at the best prices in the industry.
About Diamond Blade Dealer:
Diamond Blade Dealer is a wholesale supplier of diamond blades, core bits, polishing pads, grinding shoes, and cup wheels for concrete, asphalt, masonry, tile, porcelain, granite and marble. The company operates a store online at www.diamondbladedealer.com and offers high quality products at low prices.