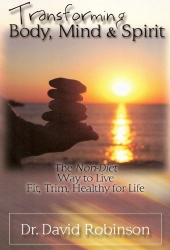 New Bedford, MA, May 06, 2009 --(
PR.com
)-- In his new guide just released by Strategic Book Publishing, NY, Dr. David Robinson directly squares off against the diet and weight loss industry.
Author, Personal Trainer and Chiropractor, Dr. Robinson says, "In light of the recent evidence of harmful and dangerous effects from another diet supplement, it is time for health and fitness professionals to come together against the nonsense of diets and weight loss, once and for all and promote healthy lifestyle changes in their place."
"For years people have been chasing after the wares of the diet and weight loss mongers. The results? Dismal!" he declares.
"We have seen dramatically worsened levels of health and the number of cases of chronic disease exploding."
And he is right on the mark. The U.S. surgeon General states that over 65% of all adults are seriously overweight to obese. Federal projections estimate that by 2050, close to 1/3 of the population will have type II diabetes, with all its complications in tow, such as blindness, hearing loss, kidney disease, nervous system disorders and amputations of extremities. The World Health Organization cites that over 72% of all deaths in U.S. are the result of chronic and degenerative diseases resulting from unhealthy practices and cited that such chronic conditions are preventable.
"Now, people do not have to plow through a 200 page book. This guide gives the basic essentials for life changing transformation that will last for the rest of their lives," Robinson states.
His new guide, "Transforming Body, Mind and Spirit – The NonDiet Way to Live Fit, Trim, Healthy for Life" is a concise 72 page guide of the nuts-n-bolts information needed for great health, great energy and a great body, without using diets or weight loss pills and programs.
Transforming Body, Mind and Spirit – The NonDiet Way to Live Fit, Trim, Healthy for Life
Strategic Book Publishing, New York, NY
ISBN: 978-1-60693-764-8; $9.95; 72 pages.
Contact:
http://www.DrDavidRobinson4Health.com
###