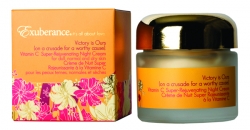 Charlotte, NC, May 05, 2009 --(
PR.com
)-- beautorium is partnering with Exuberance Beauty, a colorful, fun and positive organic skincare line that likes to remind us, "it's all about love." More than just skin care, each unique Exuberance package encourages us to celebrate our own unique beauty—and to keep smiling in these sometimes trying times!
Founder Jodi Fedor says "every Exuberance product comes not only with healthy ingredients, but with a love letter that speaks to our individual beauty and power as women. We are excited to partner with beautorium as they also create such a positive experience in choosing the best of ethical and effective skincare."
Ann Francke, Founder of beautorium says, "Jodi's line is colorful, carefree yet effective. Exuberance Beauty is a great example that organic can be fun and anything but boring."
Hot pink, green and tangerine packaging contains little love notes encouraging the user, while the products themselves offer carefully crafted, delightful to use skincare that doesn't skimp on efficacy. All Exuberance products are made with up to 98% certified organic ingredients, are free of parabens, petrochemicals, fragrances and are not tested on animals.
Originally launched in the USA at Henri Bendel, and sold at Bay Department Stores in Canada, beautorium is delighted to be the first online beauty boutique in the USA to stock the colorful line of nine popular Canadian products with organic ingredients ranging from Hemp to Green Tea to Horsetail Plant.
Signature products include: She's So Lovely Daily Face lotion, made with pure rose oil to even-out skin tone, reduce redness, and fight the signs of aging, and Ultimate Perfection Eye Cream, a luxurious cream formula voted top-ten on consumer lists made with Evening Primrose Oil to help reduce fine lines and wrinkles. The line retails from $29 to $76.
###