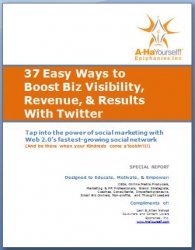 Laconia, NH, May 14, 2009 --(
PR.com
)-- Still think "tweeting" is a bird call? Afraid anything involving Twitter is a waste of time and resources for your business, brand, or practice? A free, 19-page Special Report shows how companies large and small can create real, relevant, and profitable business opportunities with Web 2.0's fastest-growing social network.
Epiphanies, Inc., a social marketing & success strategies firm with clients across the US and Canada, has released 37 Easy Ways to Boost Biz Visibility, Revenue, & Results With Twitter, now available for download at
www.EpiphaniesInc.com/twitter
.
"Tools like Twitter are available - for free - to radically and strategically leverage your resources, catapult your competitive edge, and create revenue streams where none existed before," says Lani Voivod, co-owner of Epiphanies, Inc. "We've created this Special Report because clients, partners, and attendees at workshops and presentations have been asking us about Twitter and how to make it worth their while."
Twitter is the fastest-growing social networking site out there. In fact, Nielsen NetView reports a whopping 1,382 percent growth rate in Twitter's unique visitors from February 2008 to February 2009, and Compete.com noted a "incredible" jump of 38.6% from April 2009 alone.
Still, many marketing professionals, as well as entrepreneurs seeking to promote their products and services, have questions about how and whether Twitter is right for them and their businesses.
"The questions we get about Twitter seem to fall into three categories," says Allen Voivod, Epiphanies co-owner. "People want to know how to a) use it effectively, b) integrate it into their current marketing efforts, and c) do it without a huge time investment.
"We created this Special Report to address the concerns of these professionals, and show how powerful a communications tool Twitter can be," Voivod adds. "Especially in this environment, where marketing budgets are tightening and traditional marketing channels are becoming less effective."
The 19-page Special Report reveals five keys points to understanding why Twitter is an invaluable marketing powerhouse, plus 37 targeted methods to advance and build expert status, power up networking efforts, enhance communications and PR, use tips and tricks of the Twitter trade, and "Work Your Twitter Mojo."
About Epiphanies, Inc.
Lani & Allen Voivod, The Content Lovers of Epiphanies, Inc., help imperfect-preneurs and multi-million-dollar businesses learn and use social marketing and success strategies to boost visibility, community, competitive edge, and profits. Get their Free 19-page Special Report, "37 Easy Ways to Boost Biz Visibility, Revenue, & Results With Twitter," at
www.EpiphaniesInc.com/twitter
.
###