e-Me Ventures Forms Partnership with Zemanta
e-Me and Zemanta team-up to enhance experience for authors and consumers of web content.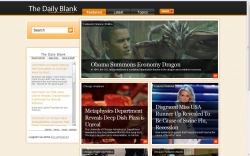 Chicago, IL, May 22, 2009 --(
PR.com
)-- e-Me Ventures, an early stage software developer focused on delivering a superior web experience for content producers and consumers alike, and Zemanta, developer of the most complete semantic API in the market, have announced a partnership to customize and incorporate Zemanta's API/services into e-Me's content services cloud.
Zemanta uses a "content-understanding" engine that delivers related content, pictures, links, and tags – in real time – as content is being originated. The service has been praised by bloggers and journalists the world over for simplifying their work and increasing traffic.
"e-Me's value proposition is three-fold," said Abe Abreu, e-Me's Founder and CEO. "We want to provide more value with less content; deliver an outstanding web experience; and connect advertising and commerce at the point and time in the consumption experience where it will have the highest impact," said Abe.
"Having released a prototype of the web/application, e-Me can now focus on building-out our architecture to deliver a differentiated, relevant content experience. To do this, we will need to go deeper into our repository framework and develop new layers of value and business logic. This is where we will focus our efforts with Zemanta," said Abe.
"This relationship has been developing since early 2008," said Andraz Tori, Zemanta CTO. "And now that e-Me has completed a prototype and we have a new, robust API, it seemed like a great time to go deeper and see where this takes us," said Andraz.
"e-Me has a passionate team, a strong work ethic and a huge vision for getting to value," said Ales Spetic, Zemanta's CEO. "They have a really interesting idea and I especially appreciate their consumer experience focus, which is unique in a space where so many are concerned with just the technology of semantics. What we want to see at Zemanta is more applications that use our engine to add new value, and we think e-Me is headed in that direction," said Ales.
"In preparation for the next level of integration with Zemanta, e-Me will be testing its web platform with a soft release of The Daily Blank, a satire/news experiment," said Nick Peters, e-Me's Web Product Manager and Producer of The Daily Blank. "The Daily Blank is our first branded effort to engage a community that likes to get news and information in a satirical way," said Nick.
About e-Me
Founded in 2007, and based in Chicago, IL, e-Me Ventures is developing a semantic repository and web application service aimed at substantially improving the web experience for content producers and consumers alike by focusing on meaning and relevance and delivering more value with less content. e-Me developed an Integrated Content Management Framework (ICMF) concept while providing Innovation consulting services to the Cedar Rapids Gazette. Seed capital for e-Me's launch was provided by The Gazette, Media Executives, Entrepreneurs and Abe Abreu, Sr., e-Me's CEO and Founder.
About Zemanta
Founded in 2007, and based in Slovenia, London and New York, Zemanta is a revolutionary new platform for accelerating and enhancing online content for web publishers. Zemanta can be deployed on all major content publishing platforms and web browsers through a simple plug-in, as well as on Gmail and Yahoo! Mail. Zemanta was the winner of 2007's Seedcamp, which led to investment by Union Square Ventures, T.A.G. and Eden Ventures.
Follow the story:
Abe Abreu, Sr., Founder & CEO
Twitter: thinkbigsmaller
###
Contact
e-Me Ventures
Abe Abreu, Sr.
708-434-5881
www.e-meventures.com
Zemanta Contact
Bostjan Spetic
Zemanta ltd.
+386 31 565 846
bostjan@zemanta.com

Contact