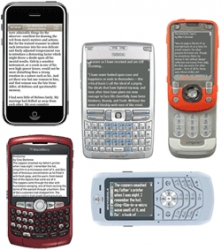 New York, NY, June 01, 2009 --(
PR.com
)-- Wattpad, the world's most popular ebook community, provides insight on ebook market penetration in its June 2009 Global Ebook Metrics Report. This comprehensive report covers both country and handset/manufacturer data based on ebook usage of subscribers of over 450 mobile operators in 160 countries.
Highlights from the report:
• Wattpad is the world's most downloaded mobile ebook applications with 3.1M downloads, at least 60% more than other mobile ebook applications such as Amazon's Stanza and Kindle.
• Java devices are still the most used mobile platform for reading ebooks. 63% of e-book usage comes from Java devices while iPhone usage grows to 33%.
• Nokia dominates the top device list - 4 of the top 6 are Nokia Series 40 devices. iPhone claims the top spot.
• iPhone dominates US ebook usage, with 78% of iPhone usage coming from North America. Nokia still dominates the rest of the world.
• Blackberry usage grew over 400% since the launch of App World in April. Indicates the effectiveness of an application storefront.
Fun facts from the report:
• Usage typically surges on weekends by 10%.
• Daily usage peaks in the evening at bed time (local times).
• Blackberry users read the least per day as shown in their average daily number of sessions. Blackberry users have about 1.6 session per day, while iPhone users have 2.3 and Java phone users read the most with 2.6 sessions per day.
Wattpad pioneered ebook cloud services in 2006. Wattpad is one of the most popular ebook reading applications in the world. It is a top 3 ebook application in the iPhone App Store, just behind Amazon's Stanza and Kindle and ahead of Barnes and Nobles's eReader. It is also one of the top ebook applications in the BlackBerry App World. Additionally, Wattpad is the only ebook application that supports all variants of Java ME, which ensures Wattpad runs on virtually all phone models in the market. As a result, Wattpad can analyze every browse, read, search and click and uses this to optimize its services. This report offers a snapshot of the data to provide insight into trends in the ebook ecosystem.
Visit
http://bit.ly/19A1wk
to access the full June 2009 report. Subscribe to future reports by sending an email to contact@wattpad.com.
Disclaimer: Wattpad does not claim that this information will necessarily be representative of the ebook industry as a whole or of any particular region. The data is collected through Wattpad's mobile application only. It does not include usage from Wattpad's website and mobile site.
About Wattpad
Founded in 2006, Wattpad is a pioneer in ebook cloud services, Wattpad's mission is to revolutionize the way people publish and read written works. The material on Wattpad is created by the community of users. Anyone can publish what they have written - a romantic story, a fan fiction, poetry, an essay or a novel - and read by the community. All the content can be easily accessed on Wattpad's website (www.wattpad.com), mobile site (m.wattpad.com) or through the Wattpad application on virtually all feature phones, such as Nokia, Motorola, Sony Ericsson, Samsung, LG, Sharp, Sanyo, Panasonic, as well as smartphones such as Symbian, Blackberry and Apple iPhone / iPod Touch.
Wattpad has experienced explosive growth since its inception. Wattpad is now the world's most popular destination to publish and read books, delivering billions of pages from its library of over 100,000 ebooks created by the community. With over 3 million downloads, Wattpad is the most popular mobile ebook application of all time.
For more information, please visit www.wattpad.com.
###