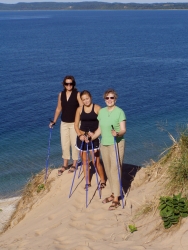 Glen Arbor, MI, June 06, 2009 --(
PR.com
)-- Free Nordic Walking Clinics To Be Offered At "Girl's Night Out"
On Thursday June 18th from 5:30 p.m. - 8:30 p.m. in the Glen Arbor Town Hall, M-22 Michigan, there will be music, chocolate, wine, food and free Nordic Walking Lessons. Women will be able to sample all of the great things Glen Arbor has to offer. Check out shoes, scarves, beauty products, jewelry, clothing, lavender soap and the Nordic Walking Poles. Get a massage, talk to an investment or insurance counselor, and find out about local women's groups—all under one roof. Free admission, lots of coupons and opportunities to have a great evening.
The Nordic Walking Classes will be hosted by Glen Arbor's Pete Edwards – owner/founder of
www.SkiWalking.com and The American Nordic Walking System
. Edwards has introduced Nordic Walking to thousands of Americans. Over 7 million Europeans are Nordic Walking – walking with poles in the cities, out in the country and up in the mountains. Edwards' unique teaching system provides different options of intensity and exertion. There is an ideal level of intensity for any age and any fitness level. Nordic Walking poles can help to burn up to 40% more calories than regular walking – turbo charging the average walking campaign.
Edwards promotes one-piece Nordic Walking Poles that are sized correctly for each individual's height. One-piece poles are safer, lighter and much more durable than cheap twist-locking adjustable length/telescoping/collapsible poles. Edwards offers 14 different lengths of Nordic Walking Poles – more than any other retailer of Nordic Walking Poles in the USA and Canada. All poles from The American Nordic Walking System and www.SkiWalking.com are equipped with comfortable and patented Nordic Walking Straps – patented by the Salomon Ski Company. All poles are also equipped with durable metal tips for trails, the beach, snow and ice, plus special removable rubber Nordic Walking tips for pavement and other hard surfaces. Edwards' SWIX Nordic Walking Poles are made in Lillehammer, Norway. His EXEL Urban Skier Poles' shafts are made in Mäntyharju, Finland – not China.
Perfect length poles help us to automatically walk with a super straight back - better walking posture is biomechanically a good thing. This improved walking posture when combined with the unique 4-Wheel-Drive type action of walking with poles radically reduces the stress to the shins, knees, hips and back. Nordic Walking is low impact and yet provides a highly effective workout - burning more calories and working more muscle groups than regular walking.
According to Nick Mahood, SWIX USA Nordic Walking Director, "Pete Edwards, SkiWalking.com's owner/founder/coach, has single handedly introduced thousands of Americans to Nordic Walking through his enthusiastic clinics! I have no doubt that Edwards is the #1 retailer of Nordic Walking Poles in the USA! You can quote me on that!"
###