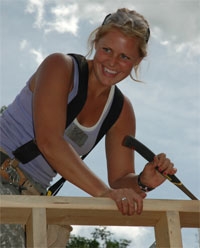 Minneapolis, MN, June 10, 2009 --(
PR.com
)-- Redefining the phrase "break a nail," several hundred women will descend on a South Minneapolis home this summer with power tools in hand as part of Twin Cities Habitat for Humanity's (TCHFH) WomenBuild™ project.
Governor Tim Pawlenty has declared June 15 WomenBuild™ Day in Minnesota. A brief program celebrating the kick-off of the project will be held at the site of TCHFH's WomenBuild™ 2009 home on Monday, June 15, from 9:00 – 9:45 a.m. Featured speakers include Susan Haigh, president of TCHFH; U.S. Senator Amy Klobuchar; Minnesota State Senator Linda Berglin; Minneapolis City Councilmember Elizabeth Glidden; and Bonnie Kalen, Vice President- Region Manager at Wells Fargo Home Mortgage, and WomenBuild™ Chair.
WomenBuild™ is a program of Habitat for Humanity International that encourages women and girls from all walks of life to have fun, develop new skills and help transform communities by building decent, safe and affordable homes for hard-working low-income families. WomenBuild™projects have empowered women all over the world to make a tangible difference in their communities.
Twin Cities Habitat for Humanity's WomenBuild™ 2009 is the ninth WomenBuild™ project, and twelfth WomenBuild™ home completed in the Twin Cities. All major funding for the Twin Cities' WomenBuild™ 2009 home is provided by women-led businesses and foundations, as well as donations from individual women.
The property is a former foreclosure that was purchased and anonymously donated to TCHFH. This marks the first foreclosure remediation project that TCHFH will be completing in the City of Minneapolis. Lead sponsors for the project include Wells Fargo, the Joyful Women's Fund, and the Hugh J. Andersen Foundation. Lowe's is the national sponsor of WomenBuild™.
About Twin Cities Habitat for Humanity
The mission of Twin Cities Habitat for Humanity is to eliminate poverty housing from the Twin Cities and to make decent, affordable shelter for all people a matter of conscience. An award-winning nonprofit housing developer, Twin Cities Habitat is committed to building the quality of life, health and economic prosperity of the region by producing, preserving and advocating for affordable homeownership – because homes and families are the foundation of successful communities. For more info, visit www.tchabitat.org.
###