1st Release of the Art of Storytelling with Brother Wolf Show iPod, a Complete Storytelling Education with 85 Hours of Storytelling Techniques for Teaching Storytelling
The Art of Storytelling with Brother Wolf Show will be released on July 31st 2009 on an iPod with 85 hours of storytelling techniques for teaching storytelling creating a complete storytelling education in one box.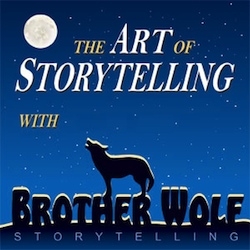 Yellow Springs, OH, June 18, 2009 --(
PR.com
)-- The Art of Storytelling with Brother Wolf Show is an internationally recognized podcast listened to in 142 countries worldwide with over 50,000 total lifetime downloads, 13,000 distinct listeners, and 8,000+ downloads in the last thirty days. With over 88+ storytellers interviewed on the show this website is rapidly becoming the worlds premiere source for
teaching storytelling
online. Through this encyclopedia of storytelling techniques a listener can improve their communication skills and get a complete storytelling education.
Heather Forest, Elizabeth Ellis, Judith Black, Jay O'Callahan, Andy Offutt Irwin, and many other storytellers are interviewed on how to use storytelling techniques in performing for and teaching storytelling to children. The Art of Storytelling has drawn guests from all over the world and created an amazing
storytelling education
resource of storytelling techniques that is unmatched on the World Wide Web. All episodes available right now online for immediate listening and download in the commercial lower quality version for easier download.
Individuals wishing to pre-purchase this commercial free iPod can pay $338.55 till July 27th. On July 27th the price for a preloaded iPod with 85 shows will increase to $394.65. The Apple iPod allows listeners to scan easily to any point in each of the 85 hour long shows.
Eric Wolf is the host and producer of the Art of Storytelling with Brother Wolf Show which is dedicated to supporting the teaching of storytelling worldwide by providing access to
storytelling techniques
and a grounded storytelling education for anyone.
For More Information go to:
http://www.artofstorytellingshown.com/category/press-release/
For a Full List of Episodes go to:
http://www.artofstorytellingshown.com/past-guests/
For more Information Contact:
Eric Wolf (937) 767-8696
###
Contact
Brother Wolf Storytelling
Eric Wolf
937-767-8696
www.ericwolf.org

Contact