New Book Provides Help for Florida Auto Accident Victims
"Secrets Exposed: 7 Deadly Mistakes That Can Destroy Your Auto Accident Case" by Ft. Lauderdale Attorney David M. Benenfeld helps Florida residents understand their legal rights should they be involved in an auto accident.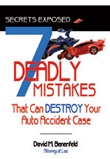 Ft. Lauderdale, FL, June 23, 2009 --(
PR.com
)-- Ft. Lauderdale personal injury attorney David M. Benenfeld has authored a book to help Florida residents understand the potential pitfalls of an auto accident claim and also guide them to maximizing their recovery under the law.
The book, "Secrets Exposed: Seven Deadly Mistakes That Can Destroy Your Auto Accident Case" explains the practicalities of how to handle an auto accident claim, covers the critical mistakes people often make after an auto accident and also helps answer many of the most common questions people have, including:
· What exactly is a personal injury case?
· What role do insurance companies play and how do they operate?
· What do I need to know to choose an attorney who is right for me?
· What will I have to prove to win my case?
· How much money will be available to me if I make a claim?
"I wrote this book because I noticed that people, time and time again, seem to have pretty much the same questions after an accident," Benenfeld said. "I've also found that many people, although they have sought legal advice, have not received adequate answers to their questions."
According to the Florida Highway Safety and Motor Vehicles most recent statistics, more than 256,000 auto accidents occurred in Florida in 2007, resulting in over 3,200 fatalities as well as more than 212,000 injuries.
"An auto accident claim can be stressful and confusing," Benenfeld said. "My sincere hope is that this book will help Florida residents understand how to best handle the situation."
The book is published by Word Association Press and is available for $14.95 on Amazon.com. As a special service, Florida accident victims may request a free copy of the book by visiting
www.InjuryLawService.com
.
###
About David M. Benenfeld:
David M. Benenfeld is an attorney who has been representing injured and disabled people in the South Florida area as well as throughout the State of Florida since 1994. He only represents people that have been hurt in accidents and has never represented an insurance company. Mr. Benenfeld practices not only personal injury law, including automobile accidents, slip and fall accidents, and wrongful death claims, but also handles workers' compensation claims and social security disability claims.
Mr. Benenfeld is a member of The Practice Management and Development section of the Florida Bar and the Florida Workers' Compensation Division. He is also a member of the Florida Workers' Advocates and Trial Lawyers sections of the Florida Bar. For more information about David M. Benenfeld and his law practice, please visit www.InjuryLawService.com.
Book Details:
Paperback
Publisher: Word Association
Cover Price: $14.95
Language: English
ISBN 978-1-59571-288-2
Contact
Law Offices of David M. Benenfeld
Sean Mulcahy
609-388-5012
www.injurylawservice.com

Contact