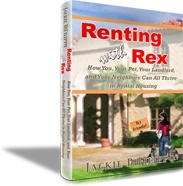 San Leandro, CA, June 30, 2009 --(
PR.com
)-- "Renting with Rex: How You, Your Dog, Your Landlord and Your Neighbors Can All Thrive in Rental Housing." The Only Book on Renting with Dogs.
ISBN: 978-0-557-06368-0; Price: $19.95
Many pet owners are facing foreclosure and need to find a place to rent with their pets. They are looking for a new apartment to rent with their dog, and have become frustrated because they can't seem to find a rental even though their dog is well-behaved.
Pet owners who are elderly or disabled and living in assisted living need to make sure their rights are being adhered to. Pet owners who have a service dog and want to find a place to rent also need to make sure the property owners know the rights of the disabled person with a service dog.
Pet owners who are moving with their dog can make their move more pleasant and secure.
According to shelter records throughout the country one of the top reasons animals are surrendered to shelters is because owners are unable to find a place to rent. This book by The Social Pet will help pet owners to not only find a new place to live with their dog, but also keep their dog, their landlord and neighbors happy.
The Social Pet says: "This is what you can learn in this new book: Renting with Rex:
· Finding a Dog Friendly Place to Rent
· Renting to Pet Owners Can Benefit a Manager
· Moving With A Dog
· Keeping Landlords and Neighbors Happy
· Keeping A Dog Healthy
· Preventing Undesirable Behaviors
· Fun Activities To Do with A Dog
· Tools to Help Train A Dog
· Acclimating A Dog to Living in an Apartment
· Elderly or Disabled Dog Owners
· Rights as a Dog Owner if Renting
· Renting an Apartment as a Pet Owner"
Since 1984 Jackie Phillips has been renting with dogs, cats, birds and rabbits in the San Francisco Bay Area and Northern California. She has lived in a wide variety of types and sizes of rentals. She has seen a wide variety of landlords, property owners, managers, roommates and rental agreements. Jackie has also volunteered and worked in shelters and have seen many animals surrendered to shelters because owners were unable to find a place to live.
Jackie is a certified pet detective, helping owners to find lost pets. She owns a photography business shooting dog sports throughout California. She also does animal intuitive communication readings. She can talk directly with living animals to help resolve behavioral problems and speak with animals who have passed over.
The objective for this book is to prevent another animal from loosing their home because they can't find a place that will take pets or one they can afford.
A few contributing groups are : Humane Society of the United States, American Society for the Prevention of Cruelty to Animals, Delta Society, Kathy Diamond Davis, PetTravel.com, Hawaiian Human Society.
###