Hot Rods, Choppers, Zombies and Beer Promised at Seattle's Hot Rod Monsters Film Festival
Presented by Go-Kustom Rekords & Films is the first ever Hot Rod and Monster Film Festival to be held at 911 Media Arts in Seattle, Washington, July 18th & 19th, 2009. Additional sponsors include Ol Skool Rodz , Car Kulture Deluxe, The Pin-Up Angels and The Rat Bastards Car Club.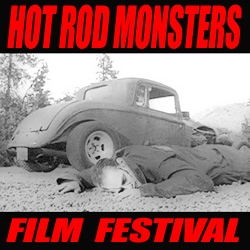 Seattle, WA, July 02, 2009 --(
PR.com
)-- If you think the biggest problem with film festivals today is that there's not enough hot rods, zombies, pin-up usherettes and beer, then the Hot Rod Monsters Film Festival in Seattle is the answer to your Kustom Kulture prayers. The two night festival begins on Saturday July 18th, goes through Sunday July 19th and is described as "a working class film celebration of grease, ink and iron." It may not be SIFF but it's definitely fresh and exciting.
Said Festival Registrar D.A. Sebasstian, "We wanted to start something that showcases films with a Kustom Kulture feel. You know - Cult Films, Hot Rods, Zombies, Aliens all the good stuff. 'We are showing many films that can't be seen in other film festivals and that deserve to be seen on the big screen."
Among the 8 features being screening at the festival are the Seattle premieres of Hot Rod Girls Save The World, Choppertown: The Sinners (Best Documentary - Hollywood DV Fest & Temecula Valley Film Fest) , Hot Rod Havoc and The Road To Bonneville (Grand Festival Award - Berkeley Film Fest). That's not to say the festival is only about films worthy of a Hot Rod Magazine article. One of the features playing at Hot Rod Monsters will be the lo-fi zombie extravaganza RetarDEAD, directed by Rick Popko and Dan West and featuring Dead Kennedy's singer Jello Biafra as the Mayor of San Francisco.
The festival is laid out in six two hour blocks, with each block containing a mixture of feature films, shorts and music videos. Said Sebasstian, "During the selection process local films went to the top of the list, I was surprised at the high number of submissions we had - considering it's our first festival. We also tried to make an interesting mixture of films. One block might be zombie shorts with a hot rod documentary, another might be a chopper film with Rockabilly music videos. The last block on Sunday night is All Zombies!"
The Pin-Up Angels, a nonprofit who send care packages to our troupes in Iraq and Afghanistan, will be the official Pin-Up Usherettes as well as selling concessions and beer at Hot Rod Monsters.
All this is happening at the 911 Media Arts Center, located at 402 9th Ave. North, Seattle WA 98109. 911 has a comfortable Arthouse Style Theater that seats around 65 people. They are right on the corner of 9th & Republican just a few blocks from the Space Needle and in the same building as the SIFF headquarters.
To learn more about the festival, please visit the 2009 Hot Rod Monsters Film Festival Official Website at
www.hotrodmonsterfilmfest.com
###
Contact
Go-Kustom Films
D.A. Sebasstian
(206) 856-8284
go-kustom.com

Contact