US Soldiers Call Home for Free This Holiday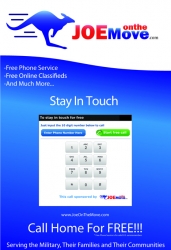 Cheyenne, WY, July 03, 2009 --(
PR.com
)-- U.S. troops serving overseas can call home for free on July 4th thanks to a pair of Camp Hovey soldiers.
Larry Thorpe, 28, Army 1st-15th Field Artillery and Patrick Ayers, 25, an Army Medic with the 4th-7th Cavalry, are giving away 1 million minutes of free talk time to celebrate Independence Day and the launch of their Web-based company, www.JoeOnTheMove.com.
"We started the company to help traveling troops connect with friends and loved ones back home," said Thorpe, a Chicago native.
"Until now, deployed U.S. soldiers in the field didn't have a way to call home for free. A lot of money is being spent on phone cards. Soldiers only access to government computers. They can't download or install any software like Skype," he said. "Our options are limited."
Soldiers register on the website using a valid military e-mail address for validation purposes. After watching a 30-second sponsored video clip, troops can make a phone call for up to 30 minutes with no software downloads or purchases required. Users may repeat the process as many times as they like.
Most soldiers may call home from phones provided by U.S. government agencies only on special occasions, such as holidays, Thorpe said.
"In combat, soldiers wait in long lines – sometimes for hours – to speak with friends and family back home for only a few minutes at a time.
"All you need is a computer and the internet to use this service," he said.
The service is made possible through partnerships with U.S. military-friendly charity organizations funded by corporate sponsorships.
Thorpe says his Wyoming-based company is paying for the first one million minutes to prove the overall need for this service for soldiers.
"Our charities are in need of corporate sponsorship so we can provide this free service from now on for our fellow troops," he remarked.
JoeOnTheMove launches at midnight on July 3rd (Afghanistan time) and will remain open for 36 hours. Follow JoeOnTheMove using Twitter ID @JoeOnTheMove
###
Contact
JoeOnTheMove
Larry Thorpe
3122123958
www.joeonthemove.com

Contact