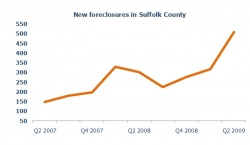 East Hampton, NY, July 21, 2009 --(
PR.com
)-- PropertyShark.com, the premier real estate data site, today released its quarterly report covering first-time residential foreclosures in Long Island (Suffolk County, Nassau County) for the second quarter of 2009.
Key Findings (Request report for details and charts):
New foreclosures in Long Island decreased 20% from Q1 2009 - Long Island foreclosures (757) were down 20% compared to Q1 2009 (944), and up 9% over Q2 2008 (696).
Nassau County new foreclosures decreased 58% from Q1 2009 - Compared to Q1 2009 (626), new foreclosures in Nassau County (265) went down 58%. Since Q2 2008 (393), new foreclosures declined by 33%.
New Foreclosures in Suffolk County reached two-year high in Q2 2009 - There were 492 new foreclosure auctions scheduled in Suffolk County during Q2 2009. This was up 62% compared to Q2 2008 (303), and up 55% from Q1 2009 (318).
High foreclosure rates in Bayshore, Central Islip and Brentwood - Bayshore had a rate of one in every 250 homes scheduled for auction, Central Islip had a rate of one in every 293 homes scheduled for auction, and one in every 340 homes in Brentwood was scheduled for auction.
The full Long Island Q2 09 Foreclosure Report can be downloaded at http://www.propertyshark.com/mason/BlogCenter/marketreports.html.
In addition to foreclosure listings, PropertyShark.com visitors can view property reports for almost every property on Long Island, run sales comparables to assess market values, and browse Long Island homes for sale including
Hamptons Homes For Sale
(http://www.propertyshark.com/hamptons_homes_for_sale). PropertyShark also runs real estate classes in Manhattan through www.PropertySharkUniversity.com.
About PropertyShark.com: With over 25 million properties in twelve major markets, PropertyShark.com provides real estate professionals and investors with data and tools on all aspects of property, including building details, ownership information, property values and comparable sales, maps, for sale listings, foreclosures and pre-foreclosures, mailing lists, photos, and more. PropertyShark.com strives to level the playing field by offering independent real estate firms, investors, and savvy consumers the information transparency essential to evaluate real estate and make informed decisions. For more information go to: www.propertyshark.com.
###