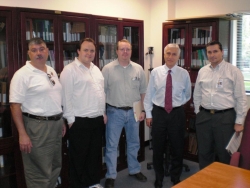 Gainesville, FL, August 05, 2009 --(
PR.com
)-- Recently Spiderman S. Mulholland, Senior Forensic investigator and national consultant with U S Building Consultants and U S Building Laboratories Inc., met with Analytical Research Systems, Inc. (ARS, Inc.) and some of the top professionals at the University of Florida (UF) in Gainesville, Florida.
In a series of meetings during the day Mr. Mulholland and Ara Mukian, CEO/Director of Engineering for ARS, Inc. met with Dr. Nancy J. Szabo, Assistant Research Professor & Director Analytical Toxicology Core Laboratory; Dr. Amelia Dempere, Director, Major Analytical Instrumentation Center (MAIC) Department of Materials Science & Engineering (MSE); Dr. Alireaza Haghighat, Professor & Chairman, Nuclear & Radiological Engineering, Director of UF Transport Theory Group (UFTTG); Dr. Brian Shea, UFTR Reactor Manager Department of Nuclear & Radiological Engineering; and Dr. James E. Baciak, Assistant Professor Nuclear & Radiological Engineering.
Spiderman Mulholland has teamed up with ARS, Inc. and UF departments who are currently conducting testing for U S Building Consultants, Inc. as it relates to defective Chinese drywall and are focusing on providing solutions to the crisis. Mr. Mulholland selected the University of Florida not because of its location, rather due to the university's reputation for having some of the most distinguished professors and their cutting-edge technological capabilities. The University of Florida is a leader in research and development, and when looking for answers – it is necesary to combine forces with industry leaders that can help get the answers needed for your clients.
U S Building Consultants and U S Building Laboratories Inc. is looking forward to working with the University of Florida and ARS, Inc. on determining the most efficient and cost effective solutions when it comes to Chinese Drywall.
To learn more about Spiderman Mulholland and USBCI, go online to
www.usbcinc.com
, or to arrange an interview, contact annie@usbcinc.com.
###