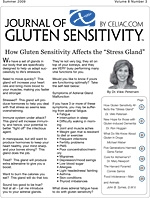 Santa Rosa, CA, July 28, 2009 --(
PR.com
)-- Celiac.com has launched its newest publication: "Journal of Gluten Sensitivity," edited by Dr. Ron Hoggan. This new publication has a long and respected history under its original title "Scott-Free Newsletter," which includes 28 issues since 2002 that have reached tens of thousands of subscribers. Scott-Free Newsletter offered the most in-depth and accurate information on celiac disease, gluten sensitivity and the gluten-free diet, and Celiac.com will continue this tradition under its new namesake.
The idea behind the original title was that if you read and understood the information contained in the newsletter, you would be able to deal with a diagnosis of celiac disease and remain "Scott-Free," in other words, it would be no big deal. Since nearly three quarters of Journal of Gluten Sensitivity's authors have PhD's, and many of them have published at least one book on celiac disease or the gluten-free diet, Celiac.com will continue to meet this goal under the new "Journal of Gluten Sensitivity" title—and now the new title more closely matches the publication's content—so it will appeal to an even broader audience.
In addition to the title change, Celiac.com will soon offer the most relevant information from its past issues of Scott-Free Newsletter in book form, with the goal of passing on the best and most accurate information available on celiac disease, gluten sensitivity and the gluten-free diet to as many people as possible.
The Journal of Gluten Sensitivity is a research-oriented publication that focuses on the latest celiac disease research, articles on gluten sensitivity, health information specific to those with gluten intolerance, and also includes recipes, cooking tips, and diet information for leading dietitians and experts such as Carol Fenster, Ph.D., Connie Sarros, Cynthia Kupper, RD, CD (Executive Director, Gluten Intolerance Group), Danna Korn, Shelley Case, B.Sc., RD, and many others.
The cost of our publication has never changed—$29.95 for the paper publication, and $24.95 for the on-line publication. It is like buying a good book that is sent to you in four parts over a one year period. Most of Celiac.com's subscribers are instantly hooked, and many researchers subscribe to it to keep up on the latest research—and possible future research—that is being done, and still needs to be done.
Subscribe to Journal of Gluten Sensitivity today at www.Celiac.com.
Celiac.com was founded in 1995 by Scott Adams, and is part of The Gluten-Free Mall, Inc., which is a shopping Web site for those on gluten-free diets due to celiac disease or other health reasons. The Gluten-Free Mall can be found online at: www.GlutenFreeMall.com.
###