New Louisiana Historical Markers Section Released at StoppingPoints.com
StoppingPoints.com has released a new state section in their continuing expansion of U.S. historic info pages: the new Louisiana historical markers section includes 400+ official state historical markers, mapped and further combined with additional unique data.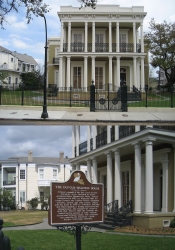 New Orleans, LA, July 29, 2009 --(
PR.com
)-- StoppingPoints.com, a guide for discovering historical markers and points of interest throughout the United States, this week has launched another new and extensive section thoroughly covering
Louisiana's Historical Markers
.
The new Louisiana StoppingPoints section lists and pinpoints over 400 markers within the state - more than virtually any other online source. Most markers are grouped and mapped by parish, by city, and also individually, allowing history buffs to easily locate them when visiting the Pelican State (the Pelican bird is part of the Louisiana historical marker medallion symbol).
The easy map interfaces allow for browsing the markers in major cities such as Shreveport, Baton Rouge, New Orleans and Natchitoches - viewing the historic sites dynamically pinpointed.
Bill Lawson, Editor-in-Chief for StoppingPoints.com, stated "We believe the Louisiana historical site guide is probably the top most comprehensive guides of the state anywhere. As far as we're aware, there is no official state guide to Louisiana's markers online, and this state's historical contributions are some of the most compelling and interesting of anywhere in the nation."
"Louisiana's historical markers hallmark some of the most romantic and nostalgic places in the Old South. The mixture of French history, Creole history, Civil War era times, New Orleans mystery, and picturesque architecture from old Acadia all combine to make Louisiana a mythic place in the American consciousness."
The section allows users to navigate by parish regions and by city in order to view maps pinpointing the historical markers in each area. Some parishes contain dozens of small, brown-and-white "LA" marker icons pinpointing the marker locations in the area, such as the page for
New Orleans historical markers
.
Some of the most fascinating markers include those found in St. Martinville town in St. Martin Parish such as the one posted for the "Evangeline Oak," named after the famous epic poem by Henry Wadsworth Longfellow which narrated a tragic and beautiful story of the love of Acadian exiles Evangeline and Gabriel, likely inspired by the real-life historic Louisianans, Emmeline Labiche and Louis Arceneaux who met here.
Another romantic marker near St. Martinville is one posted at the "Oak and Pine Alley", a front driveway of a cotton plantation lined by oak and pine trees which, according to local legend, was decorated at the command of the plantation owner, Charles Durand, by importing spiders which spun cobwebs along the road. On the morning of the double wedding of his two daughters, he sprinkled gold and silver dust which stuck in the dew in the spider webs so that when his daughters departed in their carriages they would be dazzled by this final touch.
While the focus of StoppingPoints' content is primarily historical, the site's developers are not stuck in antique technology. For the technically savvy, hidden in the code of the pages are hCard microformats, allowing those with advanced devices to easily copy contact information to address books for quick transportation.
"These features are very important to internet users," said Lawson. "We're combining multiple technologies such as microformats, special displays for mobile devices, and Google Maps to provide a feature-rich and easily navigable internet experience. We try to make complex information intuitive to access and use."
###
Contact
StoppingPoints.com
Bill Lawson
469-619-0935
www.stoppingpoints.com

Contact