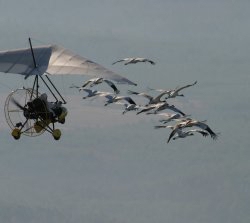 Necedah, WI, July 30, 2009 --(
PR.com
)-- The Duke Energy Foundation and Operation Migration Inc. are proud to announce the launch of the world's first Whooping CraneCam.
On July 31st, Operation Migration's CraneCam sponsored by Duke Energy will begin streaming live video and audio around the world, offering watchers never-before-seen views of one of the world's most endangered birds, the majestic Whooping crane.
With fewer than 400 wild Whooping cranes in existence, Operation Migration Inc. and the Whooping Crane Eastern Partnership are carrying out a reintroduction of these rare birds in Central Wisconsin, which sees Operation Migration use ultralight-aircraft to teach the cranes how, and where, to migrate.
Viewers can now watch live online as Operation Migration's pilots and crane handlers condition the juvenile Whooping cranes that form the 'Class of 2009' for the biggest adventure of their lives – their first migration. To tune in, visit
http://www.operationmigration.org/crane-cam.html
Beginning early to mid-October, pending connectivity at remote stopover locations, "Craniacs" and online viewers may be able to watch each morning's departure as the cranes and planes make their way south – a journey of over 1,200 miles. Because progress is entirely weather dependent, the journey from Wisconsin to Florida can take between 60 to 90 days to complete.
The CraneCam will also deliver views of the Class of 2009 in their travel pen at the conclusion of each migration flight leg. On completion of the migration, the CraneCam will be set up at Florida's St. Mark's National Wildlife Refuge to provide an unprecedented opportunity to watch the young Whooping cranes as they mature over the winter. The CraneCam will offer online viewers a ringside seat to witness their "soft release" into the wild.
Duke Energy, sponsor of Operation Migration's CraneCam and one of the largest energy companies in the USA, serves 4 million customers in the Carolinas and the Midwest. The company has a distinguished record of support for endangered birds, including significant support for habitats and the wildlife that depend on them.
"We join with environmental groups such as Operation Migration to protect our natural resources because the company can accomplish far more in partnership than alone," said Julie Griffith with the Duke Energy Foundation. "We saw this project as an opportunity to reach people who might not otherwise be aware of this critically endangered species."
Poised to realize an avian and aviation milestone, Operation Migration kicked off a
"Give a WHOOP!"
campaign in conjunction with the launch of the CraneCam.
While leading its ninth generation, the Class of 2009, on this fall's migration south, Operation Migration will log its 10,000th air-mile with young Whooping cranes following its aircraft to learn a migration route.
The landmark 10,000th air-mile - the equivalent of flying almost halfway around the world - will be flown somewhere over Illinois.
People worldwide are asked to "Give a WHOOP!" with a goal of collecting an Honor Roll of 10,000 WHOOPS! - one for each of the 10,000 migration miles Operation Migration has flown with endangered Whooping cranes following its ultralights.
More than 200 draws will be made for thank you gifts to folks who "Give a WHOOP!"
###
To arrange
· a link to OM's CraneCam video for your website
· to receive further Briefing Notes
· video clips or still images
Contact: heather@operationmigration.org
1-800-675-2618