Wisconsin Cheese - Launches Cheese & Burger Society
Created by Shine Advertising, this unique and memorable website pays tribute to the 30 greatest cheeseburgers of all time — all made with Wisconsin Cheese, of course. Humorous VOs, mouthwatering photography and engaging navigation add to the overall interactive experience.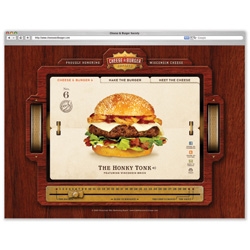 Madison, WI, August 06, 2009 --(
PR.com
)-- Challenge: Whether it's grilled, flame-broiled, or fried, America has had a long-standing love affair with the almighty cheeseburger. Both delicious and iconic, the cheeseburger holds a revered spot in American culture. More than hot dogs and apple pie, it's the food of the red, white and blue. It's at every backyard barbecue and on every diner menu. However, few people think beyond burger and bun when it comes to making a cheeseburger. The challenge for Shine Advertising was simple: Let it be known that a cheeseburger isn't a cheeseburger without Wisconsin Cheese.
Solution: Create a destination. A fun and engaging microsite that pays tribute not only to the cheeseburger as a whole, but to the one ingredient no cheeseburger can do without – cheese. Amazingly delicious Wisconsin Cheese.
Work: Welcome to the Cheese & Burger Society at
www.CheeseAndBurger.com
. Finally a place for cheeseburger fans and aficionados to unite and celebrate the 30 greatest cheeseburgers ever made. The site's look and feel is one part Ivy League fraternity house and one part American Legion hall. Navigationally, the website is simple and intuitive. Each cheeseburger is spotlighted on a Rolodex card that's controlled by a handy slider at the bottom of the page. Complete with subtle sound effects, mouthwatering photography, and a humorous voice-over that details every cheeseburger, the site is an experience that will leave visitors hungry and entertained at the same time.
Brag: "From the outset, we wanted to create more than just another recipe website," said John Krull, associate creative director at Shine. "Ultimately, our goal was to build a community of cheeseburger fans. That's why you'll notice that CheeseAndBurger.com seamlessly integrates with social media outlets like Facebook and Twitter. We really wanted to give people an opportunity to express their love for cheeseburgers made with Wisconsin Cheese, while also offering a fresh perspective on this American classic. The Cheese & Burger Society does just that."
Client: Wisconsin Cheese
Medium: Website
Creative Director: Mike Kriefski
ACD/Art Director/Designer: John Krull
ACD/Copywriter: James Breen
Associate Account Director: Greg Wold
Account Executive: Andrea Hogg
Flash Developers: Jeff Szpak, Jason Sterken
Lead Programmer: Robert Lasseter
Interactive Director: Nick Newlin
Photographer: Scott Lanza
Food Stylist: Vanessa Dubiel
For high-resolution assets:
www.cheeseandburger.com/media_resources.html
###
Contact
Shine Advertising Co., LLC
Aleah Cerniglia
608-442-7373
www.shinenorth.com

Contact