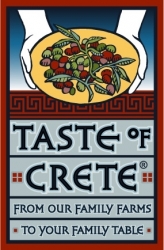 Hillsborough, NJ, August 12, 2009 --(
PR.com
)-- Taste of Crete is proud to announce that their new website (www.tasteofcrete.com) is up and running for all customers to order their wonderful array of all natural, organic, and artisan Greek products, as well as learn more about the company itself. Customers are able to look at press releases, get recipes, learn about the Cretan Diet, read product reviews, as well as know about upcoming events that Taste of Crete is participating in. Customers are able to purchase products online and get them delivered right to their door.
Taste of Crete, a New Jersey located gourmet food company, whose Taste of Crete Extra Virgin Olive Oil, from Greece, won a Gold Medal in the International Olive Oils of the World Competition, offers a variety of their products on the website. Products are separated into different categories, which allow customers to easily navigate through the website to find the specific item that they wish to buy. Among the Taste of Crete products are the gold award-winning Taste of Crete Extra Virgin Olive Oil, Apipharm Greek raw honeys, Ta Mylelia's lines of savories, jams and preserves, infused vinegars, sweet toppings, and olives, Evangelia's Traditional Greek Olive Oil Cookies available in Orange Juice, White Wine, or Grape Petimezi (grape syrup), Biolea Organic Extra Virgin Olive Oils and much more. Each of the products on the website has a picture, as well as a description of the product and how it can be used in everyday meals. In addition, customers can sign up for the new Greek Food of the Month Club, buy gift certificates or gift baskets for that special someone, or even buy beautiful Greek cookbooks. Monthly specials of certain products are also on display on the website.
Esther Luongo Psarakis, founder of Taste of Crete, states: "We are really excited about the re-launch of our website which offers what I feel are the best quality Greek products, and that really allow our customers to enjoy the best of Greece right in their own home! She adds, "In addition, we are going to continue to increase the educational aspect of our website as well and highlight upcoming tasting events that will be held in our retail location in Hillsborough, New Jersey."
Esther Luongo Psarakis has won a number of awards such as the NJ Small Business Development 2006 Success Award, the 2007 Economic Vitality Award by the Somerset County Business Partnership, was a finalist in Make Mine a Million for Women's Economic Independence sponsored by American Express in 2007 and most recently was recognized by Sam's Club as an emerging woman entrepreneur in 2008.
Taste of Crete products are carried by a number of gourmet locations and on their new website, as well as at their new location: (400 Route 206 South, Hillsborough, NJ 08844).
For more information about the company, its products, or about the website please go to www.tasteofcrete.com or call 908-685-2035.
###