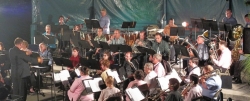 Lincoln Park, NJ, August 28, 2009 --(
PR.com
)-- The JC Concert Band and its Musical Director Stephen P Brown has announced that the 2009-2010 concert series will begin in Europe, cross through Russia and conclude in the USA via Broadway and the South.
The band, which just finished celebrating its 25th Anniversary, continues to delight growing audiences and challenge volunteer musicians through varied concert themes as well as regular appearances at services and special events at the Jacksonville Chapel in Lincoln Park, Wayne, and soon Montville.
"The new season will focus on intonation, perspective, and creating an accessible ambiance for the communities we serve," said Brown. Since being handed the baton during a concert three years ago by founder Don Amari, Brown has polished the band's image and identity, even creating an online presence and increasing its loyal following.
On November 8 at 3pm, the JC Concert Band will launch their new concert series with a "Euro Tour" at the Jacksonville Chapel auditorium, visiting diverse cultures such as Ireland, England, Wales, Scotland, France, Spain, Holland, Greece, Denmark, Romania, Hungary, Germany, and Italy. Limiting the selections to keep audiences engaged was a difficult task for Brown, who sought inspiration and advice from his own experiences as well as several players.
The very popular annual Children's Concert will be on Valentine's Day, Sunday February 14, 2010, and feature the Russian tale "Peter and the Wolf." Doors open at 1:30pm so that children can get their faces painted and be entertained by a juggler, a balloon artist and a clown. The short free concert will begin at 3:30pm, and be narrated by a celebrated NJ radio personality. "We decided to hold the children's concert on Valentine's Day to give parents the opportunity to entertain their children in the afternoon before they go out to celebrate themselves in the evening," said band librarian and personnel manager, Kathleen Haft.
Returning to the USA on May 16, the band will play a selection of recognizable Broadway and stage medleys including tunes from Les Miserables, South Pacific, West Side Story, the Sound of Music, and even the opera La Boheme. Rounding off the year with a triumphant outdoor concert at the Montville Amphitheatre on July 29th at 7:30pm, many favorite marches, classics, songs and general Americana constitute the band's glorious final theme "The Good Ol' USA."
"It is always a delight to hear them play," said Rosie, a regular audience member from Brazil.
This year the band has several new openings as graduating high school members move away to college, as well as some players retiring. All band instrumentalists are welcome to attend rehearsals during September on Mondays at 8pm, but particularly welcome are percussionists (snare and mallets), flutes, oboes, and trumpet players. In addition, everyone is invited to apply for free training enabling them to assist with administrative tasks including publicity, stage management, tech crew, and recruitment. Interested players, interns and volunteers aged 14 and up are invited to call Lauren at 973.334.6657 to find out how to plug in.
The JC Concert Band's Musical Director Stephen P Brown is known for reviving, establishing and growing musical disciplines, which has enabled Brown to quietly develop a leadership maturity to match that of his international musical youth. Currently Artistic Director of the Jubilee Symphony Orchestra, Brown was once described by George Hurst as "too nice to be a conductor," but Brown has learned how to employ his optimism, enthusiasm and encouraging spirit on the podium. His first public conducting appearance was in New Jersey at age 16, and soon after he earned a percussion performance degree from London's Trinity College of Music. Since then he's conducted the London Philharmonic Orhcestra, the South East Symphony, the Griffin Orchestra of London, Ealing & Yalding Choral Societies, worked with the Halle and BBC Philharmonic Orchestras, and was Musical Director of the Medway Chamber Orchestra, Cobham Church and Kent Youth Percussion. He has toured Romania, Hungary, the Czech Republic, France, Portugal, Holland, as well as Malawi and Zambia, and also served as the Musical Director for the Kentish Players, Spotlites Theatre, The Barn Theatre, and Ballet Rambert Education. Some of the world premieres conducted by Brown include Antonin Tucapksy's "Triptychon," "Columba Aspexit" by Martin Gaughan, works by Mathew Power, as well as the European premiere of Australian composer Ross Edward's "Dawn Mantras" as part of the UK's Millennium Festivities.
###