The Kresten Royal Villas & Spa New Luxury Property Rhodes-Greece Opening April 2010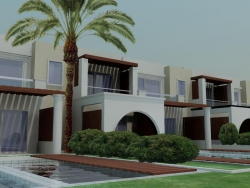 New York, NY, September 09, 2009 --(
PR.com
)-- The luxurious newly build "The Kresten Royal Villas & Spa 5*" in Rhodes island, is scheduled for grand opening in April 2010.
"The Kresten Royal Villas & Spa" is designed to transpire impeccable taste, class and seductive accommodations. The spacious double rooms include sofa space and modern design furnishings, stylish bathrooms with Jacuzzi and balconies overlooking the Aegean Sea.
Situated on a 114.000 m2 site, stands majestically on the magnificent Kalithea sloping hillside by the sea offering stunning views of the Aegean for unique privacy and unparallel relaxation.
All suites in the Villas, including Junior Suites, offer private heated swimming pools. The Royal Suites include two bedrooms while the Grand Maisonettes with two connected floors will pamper guests with Jacuzzi and daylight in the bathroom along with magnificent sea views.
The wellness centre boasting a fully equipped gymnasium also includes indoor pool and spa with steam room, sauna and massage treatment rooms designed for maximum fitness, nurture and relaxation. In short, aesthetically arranged and luxurious premises combined with breathtaking natural beauty will undoubtedly create a memorable stay, unforgettable memories and a reason for their guests to return again in the future.
With its own separate entrance and lobby the Aegean Ballroom Convention Centre can be divided into smaller rooms and can accommodate approx. 400 participants. Equipped with state of the art simultaneous translation facilities, as well as, divisible smaller meeting rooms, a business centre, VIP lounge, press room and a bistro styled coffee shop, "The Kresten Royal Villas & Spa" is an ideal destination, for incentive groups.
Only 5,5 km, from the famous UNESCO world heritage monument, the medieval old town of Rhodes and within walking distance from the recently restored Kalithea Mineral Springs "The Kresten Royal Villas & Spa" is an ideal choice for spectacular wedding ceremonies, receptions, for celebrating special occasions and most importantly for enjoying quiet and relaxing Holidays.
Paying meticulous attention to cuisine excellence while attracting and employing friendly and helpful minded personnel, the General Manager, Mr. Alexandros Kalokairinos, strongly believes that "attention to small details is what makes a hotel great."
###
For media information, please contact Alexandros Kalokairinos on +30 224 1003 240 or email gm@thekrestenroyal.gr
Contact
The Kresten Royal Villas & Spa
Alexandros A. Kalokairinos
+302241003240
www.thekrestenroyal.gr
Alexandros Kalokairinos

Contact