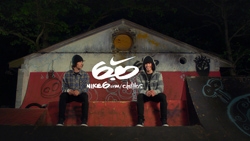 Portland, OR, September 10, 2009 --(
PR.com
)-- Top action sports stars are uniquely portrayed in national TV/web campaign
Today, Portland, Ore.-based creative agency Sandymontana announced a new series of national television and web advertisements for the Nike 6.0 action sports Fall '09/Winter '09 apparel line. The campaign began airing during the 2009 Summer Dew Tour on NBC, MTV2 and the USA Network, and will roll out through Feb. during the Winter Dew Tour. The ads will continue in general rotation on FUEL TV through May '10.
Sandymontana served as both creative agency and production company for the campaign, which includes seven TV ads, six web ads and four behind-the-scenes mini features. Director Adam Long created the "Bring It Together" concept, which highlights BMX stars Nigel Sylvester and Garrett Reynolds, Motocross legend James Stewart, and Olympiad Snowboarder Mason Aguirre. Each piece juxtaposes the professional and personal aspects of these action sports champions - using specialized techniques such as motion-control photography, photo doubles and compositing - to create an illusion of the two "sides" of each rider interacting with one another.
"We needed a campaign that authentically connected our 6.0 riders, their performance and the apparel they live in, and Sandymontana delivered," said Stephanie Derham, Brand Connections Manager, Nike 6.0. "A deep level of creative investment shines through in these spots, and Sandymontana's careful attention to detail ensured they delivered the concept on time, on budget and in a way that truly represents Nike 6.0."
"These athletes are all real and personable guys, and they were born of the same sub-culture that their fans are a part of," said Long. "We wanted to highlight that by letting the athletes tell a bit of their own stories. Nike sets the bar high and it's cool that they've been so supportive throughout the process."
The current campaign is a follow-up to two TV spots produced by Sandymontana for Nike 6.0 in 2008. Nike 6.0's action sports athletes (Surf, Snowboard, BMX, Ski, Wake, Moto and Freeride MTB) represent a new generation of rippers who charge with relentless energy and stoke. Nike 6.0 supports this generation with gear and events that are infecting the action sports world with contagious creativity and fun, and helping to spawn tomorrow's heroes.
About Sandymontana
Sandymontana is a creative agency set upon the axis where art and commerce meet. We are products of the new media age and bring diverse backgrounds and perspectives to the table. We develop content that resonates, including broadcast and online advertising campaigns. Our people have also helmed national music videos (including Olivia Broadfield, Copy, Swan Island, Barcelona) and a number of independently-produced, award-winning short films.
###