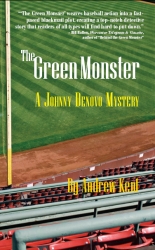 Boston, MA, September 15, 2009 --(
PR.com
)-- Proving that everything in New England revolves around the Boston Red Sox, the latest Johnny Denovo mystery – "The Green Monster" – starts with a blackmail plot shared secretly after a Red Sox victory. Soon, Fenway Park and Red Sox games become central to an worldwide scheme to extort money from fearful governments – a scheme that, once started, would prove unstoppable.
When a prominent bio-tech mogul pleads for help with an affair gone awry, Johnny rapidly uncovers an even more sinister plot, filled with environmental extremism, jealousy, deception, and greed. From the friendly confines of Fenway to the shadowy hills of New Hampshire, the countdown is on as clues, patterns, and metaphors reveal a global threat with timeless roots.
On the heels of "Spam & Eggs: A Johnny Denovo Mystery," his critically acclaimed debut, Johnny Denovo returns in a novel Bill Ballou of the Worcester Telegram & Gazette says "weaves baseball action into a fast-paced blackmail plot, creating a top-notch detective story that readers of all types will find hard to put down."
Johnny's allies return in full force, including Tucker Thiesen, technologist extraordinaire and childhood friend, a freelance surveillance operative with tentacles into worldwide security; Wei Chou, his personal chef and plant-waterer, whose talents don't stop with a sublime crispy orange beef; and Mona Landau, Johnny's hot and haughty business agent – the rare human who can melt his studied cool. And new associates emerge – Evan Chalmers, Johnny's longtime mentor and wizened confidante; Isabel Chase, who turns heads wherever she goes; and Wei Chou's niece, who reveals skills that belie her shy demeanor.
Trained as a neuroscientist, Johnny knows the human mind endlessly broadcasts patterns through metaphors. Leveraging the discipline of his own thinking and sensory awareness, he perceives patterns others do not. From cracking codes to discerning motives, Denovo moves through the world highly attuned to what is fundamental, but not always obvious.
"The Green Monster" is the second Johnny Denovo Mystery by Andrew Kent, the pen name of a writer in central Massachusetts. His debut novel, "Spam & Eggs: A Johnny Denovo Mystery," has been acclaimed by critics as "a masterpiece of deductive challenge, engrossing reading, and engaging entertainment" (ReaderViews); "a clever, intellectual mystery that will leave you wanting more of Johnny Denovo" (RebeccasReads); and "a book that in fact puts the writing of a lot of very seasoned and famous mystery writers to shame" (The Book Friar).
"The Green Monster: A Johnny Denovo Mystery" is available now through Amazon.com, Barnes & Noble.com, other online retailers, and through your local bookseller.
To keep up with the adventures of Johnny Denovo and for more information, visit www.johnnydenovo.com.
###