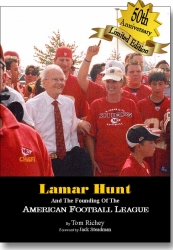 Houston, TX, September 14, 2009 --(
PR.com
)-- In celebration of the 50th anniversary of the founding of the American Football League Richey has penned the story of the beginning of the AFL in a book entitled, Lamar Hunt and the Founding of the American Football League. It is the inside story about the man who created an upstart new league against insurmountable odds. At a time when the NFL owners had forged a monopoly and had rejected his offer to bring a team to Dallas, he shook the establishment by starting his own league. Professional football would never be the same.
Roger Goodell, NFL Commissioner had this to say: "This is the story of one of the finest men and innovators in the history of sports. Lamar Hunt's vision transformed pro football and helped turn a regional sport into a national passion. His legacy is unmatched in sports and the NFL — a pioneer, a founding father, and one of the most important architects in the history of our game."
The reader will learn astonishing facts about the early years through anecdotes and narratives ... the war between the leagues … how television sealed the deal … the agony and ecstasy of hiring or not hiring players and coaches … the inside skinny about the cast of characters that made it happen … why Tom Landry rejected an incredible offer to coach in the AFL... how the Super Bowl was really named … the secret that made AFL football more exciting than NFL, plus an insight into the man who captained the enterprise, Lamar Hunt.
"I wonder if it is possible to get an NFL team here in Dallas?" he mused. The wheels were turning and the vision becoming clearer. Lamar Hunt loved football and was passionate about bringing a professional team to his home town. Unable to obtain an NFL franchise, he set about creating the American Football League.
The book begins with Lamar in high school leading the football team to an undefeated, untied season. The love for football only grew in college and the years after to the point where he decided to begin the new league. The book reveals Lamar's inner thoughts as well as the trials and travails associated with challenging the existing National Football League. Besides football, Lamar played a key role in the development of professional tennis and soccer. Untold millions of people have benefited by this man's involvement in professional sports.
Tom Richey met Lamar at the Hill School was was a close confidant for 60 years. He was privy to many of the inside stories and struggles of creating a new league. He was also part owner of one of the new AFL teams, the New York Titans.
For more information about the contest, the book, or the author, go to the website, www.lamarhuntafl.com. Take a peek inside the book and catch a glimpse of the amazing founder of the AFL.
###