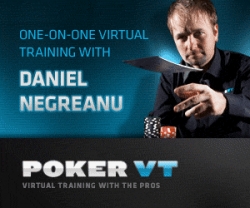 Las Vegas, NV, September 15, 2009 --(
PR.com
)-- Online, he's known as PearlJammer. Off-line, this poker champ goes by the name Jon Turner – a name that's just been added to the roster of online poker pros at virtual poker training site PokerVT.
"I'm thrilled to be part of the PokerVT team," Turner said. "Having greats like Daniel Negreanu on board gives us an image and separates us from other training sites in regards to attracting the casual poker player and fan – however, something else really sets our training apart. It is Poker VT's use of live games in their studios that is revolutionary. It's this kind of innovation that really attracted me to the company."
This new partnership with PokerVT is another milestone in what is shaping up to be a big year for Turner. In April on the virtual felt, he finished third in the SCOOP: $10,300 Main Event, $5M guaranteed on PokerStars for $527,100.00, his biggest cash to date. He also finished the 2009 World Series of Poker with three cashes and two final tables for close to $100,000 in winnings.
Turner noted that his success has been the product of honing his skills in both the virtual and "real" poker worlds. "There are certainly different aspects of the game that become more or less important depending on whether you are playing live or online," he said. "But poker is still poker either way, and getting better in one world will no doubt making you stronger in the other one."
As part of the faculty at PokerVT, Turner brings a unique philosophy to the game.
"Solid fundamentals, a desire to always learn more, good bankroll management and keeping up with the curve are what will really help your game," he said "There are some people who have the ability to figure out the game and even constantly improve it on their own, but these people are few and far between. For the vast majority of us, the more training the better. Reading about poker, discussing it with friends, and experience in the game can all help us improve, but in my opinion, there is no match for direct training from professionals."
As one of the pros at PokerVT, Turner joins the ranks of fellow faculty members Daniel Negreanu, Jason "JCarver" Somerville, Adam Junglen and Grayson "SpaceGravy" Physioc.
###
About Poker VT
Daniel Negreanu's online virtual training site
PokerVT.com
broke the standard online poker training mold one year ago with state-of-the art training techniques such as the "Real Time Thought Process" series that captures the inside strategies of beginning, advanced and professional players during live play. Negreanu's "Small Ball" course allows members to virtually train one-on-one with Kid Poker 24/7/365 from any computer in the world with an Internet connection. Sample videos and further information is available at pokervt.com.