Sterling Ballroom at New Holiday Inn Tinton Falls New Jersey Hosts a One Day Wedding Sale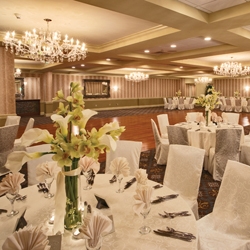 Tinton Falls, NJ, September 16, 2009 --(
PR.com
)-- The Sterling Ballroom at the Holiday Inn of Tinton Falls, New Jersey is pulling out all the stops with its novel proposal… a Wedding Sale. On October 15, 2009, for one day only, the brand new banquet facility is lowering the prices for its popular Economy Wedding Package to an astounding $49 per person (Friday or Sunday bookings) and $59 per person (Saturday bookings), not including tax and service charge, for couples who are ready to take the plunge and book a date. Brides and grooms-to-be are encouraged to come in now for a personal tour of the facility so that they'll be ready to pounce on the big day – the Holiday Inn is expecting October 15 to be the busiest booking day ever. Available wedding dates that qualify for the promotion are any Friday through Sunday from now until August 31, 2010. The new promotion, developed in response to the difficulties of planning a wedding in this economic climate, is unlike any other offer in the world of weddings and is easily extending the lowest rate of any comparable banquet facility in Monmouth County.
The brand new Sterling Ballroom—formerly the Garden State Ballroom—at the Holiday Inn of Tinton Falls has just undergone major renovations to bring out the sparkle and polish that now wins over prospective clients. In 2007, the Holiday Inn was purchased by New Jersey-based hospitality company Hotels Unlimited, Inc. Known for buying and transforming properties with multi-million dollar renovations, Hotels Unlimited spared no expense in gutting the entire interior of the Holiday Inn, right down to the public restrooms. Today, granite counters, new floors, new lighting, modern accents, and a long list of special details make the hotel and ballrooms completely unrecognizable to guests who can recall the old facility. "I get brides all the time telling me how blown-away they are with our new Sterling and Sapphire Ballrooms! Those who had seen the old Garden State Ballroom just two years ago cannot believe the transformation," says Heidi Hutch, the Catering Sales Director for the Sterling Ballroom. "They can see with their own eyes what we mean when we say 'brand new'—that we're not kidding!"
Where there once was one ballroom, the hotel now features the breathtaking Sterling Ballroom and intimate Sapphire Ballroom, with room to comfortably accommodate a range of 50 to 225 guests, depending on the size and nature of the event. Adding to the buzz, an outdoor ceremony area is currently in the works and is slated for completion before peak wedding season next year. In the guest rooms, dated bedding and décor have been replaced with new carpeting, lighting, bedding, window treatments, and even the bathrooms have been remodeled to feature new granite countertops. Other acclaimed perks include new 32-inch flat panel LCD TVs, mini-fridges and safes in all the rooms, and high-speed wireless internet access throughout the hotel. How's that for an improvement? "Based on the reactions we get from wedding guests, I'd say we're already making a name for ourselves in Monmouth County and we're quickly becoming a sought-after wedding destination," says Hutch. Couples booking their wedding at the Sterling Ballroom will enjoy a complimentary breakfast for two the morning after the wedding and a stay in the romantic Bridal Suite, which features a king bed, gas fireplace, and living room, on top of all the amenities of a standard room. Guests will especially love the new 24-hour fitness center with Precor® equipment which is open whenever they feel the urge to work out.
At the Holiday Inn Tinton Falls, only one wedding is permitted at a time – no need to worry about your guests bumping into guests from another wedding. Whether your wedding is a grand gala in the Sterling Ballroom or a friendly get-together for family and loved ones in the Sapphire Ballroom, the professional staff at the Holiday Inn of Tinton Falls goes to great lengths to make sure that every single detail is attended to and that everything from the food displays to the decorations is nothing short of perfect.
Not only did Hotels Unlimited revamp the image of the hotel, but they also wasted no time in upgrading the menu offerings to reflect the expectations of prospective brides and grooms. "What we present in our wedding menus now is such a vast improvement over the former ownership's menus," remarked Ernie Costa, General Manager of the Holiday Inn of Tinton Falls. When asked about the changes the new Executive Chef made to the old menus, Costa added, "There's just no comparison. Look at some of the entrée choices we offer in our wedding packages: surf and turf; pecan encrusted tilapia; honey-glazed filet of salmon; filet mignon wrapped in bacon; and chicken marsala. These are the kinds of gourmet options that couples expect from a five-star restaurant. That's why they're so impressed when they see our menus." Sterling Ballroom Standard Wedding Packages feature a separate cocktail hour, white-glove dinner service, five-hour premium open bar, wine service with dinner, custom ice sculpture surrounded by a raw bar, custom tiered wedding cake, choice of napkin colors, and valet parking. For the bride with a flair for the dramatic, a new Hollywood Lighting Package is available at an extra charge and is already a big hit.
For the budget-conscious bride, the Economy Wedding Package is offered for wedding dates scheduled up to the end of August 2010. This package retains many of the sumptuous selections from the standard packages while cutting out some of the more extravagant items in accordance with the discounted price tag. "We understand that many couples are trying to plan an upscale wedding without breaking the bank, and it makes their decision to book so much easier when they can choose a package that suits their individual needs and budget," maintains Hutch. She went on to say, "We just want every couple to feel that we have addressed their needs to the fullest. We understand what brides are looking for right now and we're flexible in accommodating their requests because we want them to come away with the best possible experience."
If you are a future bride or groom searching for a well-priced wedding with delectable cuisine and stellar service in Monmouth County, try heading over to the brand new Sterling Ballroom at the Holiday Inn of Tinton Falls for a personal tour and prepare to be "wowed." More information about the Sterling and Sapphire Ballrooms at the Holiday Inn Tinton Falls can be found on their website at
www.sterlingballroomevents.com
. More information about new hotel features of the Holiday Inn Tinton Falls can be found on their website at
www.hitintonfalls.com
.
###
Contact
Holiday Inn Tinton Falls
Heidi Hutch
1-732-544-9300
www.hitintonfalls.com
www.sterlingballroomevents.com

Contact