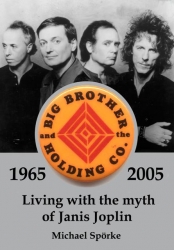 Jena, Germany, September 15, 2009 --(
PR.com
)-- Living with the myth of Janis Joplin. The History of Big Brother and the Holding Company 1965-2005
Publisher: Lulu Enterprises, UK Ltd
ISBN-10: 1409284999
ISBN-13: 978-1409284994
By Michael Spörke
English Translation by Sam Andrew
Originally published by Michael Spörke as "Big Brother and the Holding Co. 1965-2003. Die Band, die Janis Joplin berühmt machte."
2003, Norderstedt/Germany
To many people, Big Brother and the Holding Company has always meant Janis Joplin. Big Brother, who gave Janis a platform for success by giving her the freedom and the energy to develop her musical style, were considered amateurish and unprofessional by many reviewers. The critics downgraded Big Brother for a long time and in Joplin biographies the band has been marginalized. Janis Joplin became the lead vocalist of Big Brother in 1966, and in that group she found the space to become one of the best white blues singers in the world. Although Big Brother and the Holding Company were known in the Bay Area of San Francisco a year before Janis Joplin joined them, and although they still play today as an active band, there has been no in-depth history of the band until now.
Big Brother is representative of all the overshadowed bands in music history. This book tells the band's story, how difficult it was to find an identity separate from Joplin's towering talent. As David Getz, the band's drummer, says: "The fame of Big Brother is like a golden albatross. It hangs around your neck like a curse. But the curse is made of gold."
This book describes the life story of each of the members of Big Brother: where they came from, what their roots were, how they see their time with Janis Joplin, and what they experienced afterwards. It has been written with the close participation of the musicians themselves.
Robert Altmann, chief-photographer for Rolling Stone magazine.
"I read from cover to cover your wonderful book. I couldn't put it down. You did a masterful job. I really became immersed in your book."
"Though written in German, this is the only existing work on this seminal band, covering in depth their history before, during and after Janis Joplin. Based on countless interviews and the full cooperation of all surviving band members, and written by a longtime music expert." Greg Shaw † (Founder of the Mojo-Navigator magazine, www.bomp.com)
"Although the author was born after Big Brother and the Holding Company had splintered and its most famous member, Janis Joplin, had died, the affection that Michael Spoerke has for the band and the San Francisco counterculture from whence it emerged has fueled a tremendous project. Interviewing a host of participants and with full cooperation of the band's gentlemen, he has written a detailed, well-researched, sympathetic and well-reasoned account. It covers the entire history, from the formative years of the members to the band's inception, evolution, stardom, tribulations, disintegration, and reformation, all the way to the present." Craig Morrison (Canadian ethnomusicologist and author of American Popular Music: Rock and Roll)
Contact:
Dr. rer. pol. Michael Spörke, MA
Email: mspoerke@aol.com
Phone: 0049-3641-638833
###