The First of Its Kind: Tween and Teen Concert Series Launches in Clovis, California - a Message of Empowerment, Inspiration and Leadership
Announces the first of its kind: "Jeans Bring Dreams" Tween/Teen Concert Series scheduled for October 10, 2009, to be held at the Sierra Vista Mall Community Park in Clovis, California from 3:00pm to 9:00pm. www.jeansbringdreams.com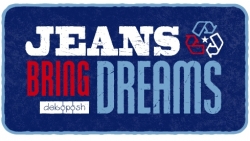 Fresno, CA, September 16, 2009 --(
PR.com
)-- This Concert is Free to all attendees thanks to all of their current supporters and participating Celebrities. This concert will include the following…
Live performances from up and coming celebrities like…
· Brianna de Alba
· Aria Wallace
· Daechelle
· Austin Anderson
· Ashlee Keating
· Amber Lily
· Stefanie Scott
· Keely Marshall
1. Motivational speakers Jessica Kinni and Chani Christie.
2. Safe Social Networking.
3. Brianna De Alba will be Headlining this event---a local teen singer/songwriter and actress.
4. Each attendee is encouraged to bring in gently used pair of jeans to gain access to the meet and greet area. All the jeans will be donated to Valley Teen Ranch.
5. Fashion Show by local retailers.
6. A performance from a local Dance Co.
7. A special tribute to Michael Jackson by performers.
8. A portion of the sponsorships will be donated to Valley Teen Ranch.
"We are indeed very excited to launch this program here in Clovis as this is where our Company was founded," said Dina Thomas-Virrueta President and Founder of Dekoposh Inc. "The business community has responded very well---we continue to receive calls and emails asking for participation," added Dina Thomas-Virrueta.
This program is sure to inspire and motivate attendees to look for ways to get involved in their respective communities and initiate change to make a difference today for a better tomorrow. Further, this is the first time a program like this has been organized for the community at large. This program carries a special message of Empowerment, Inspiration and Leadership. The Spirit of Giving, the Spirit of Hope and Change will be awakened. "We hope to illustrate that young leaders can and will come together to change the world---one Tween & Teen at a time and one city at a time," said Dina Thomas-Virrueta.
###
Contact
dekoposh, Inc.
Dina Thomas-Virrueta
559-765-0713
www.dekoposh.com
www.myspace.com/dekoposh
www.twitter.com/dekoposh

Contact